HOJO TEA
The Garden, Midvalley City Lot No. T-215, 3rd Floor
Lingkaran Syed Putra 59200 Kuala Lumpur
TEL/FAX: +60-3-2287 4537, E-Mail: info2@hojotea.com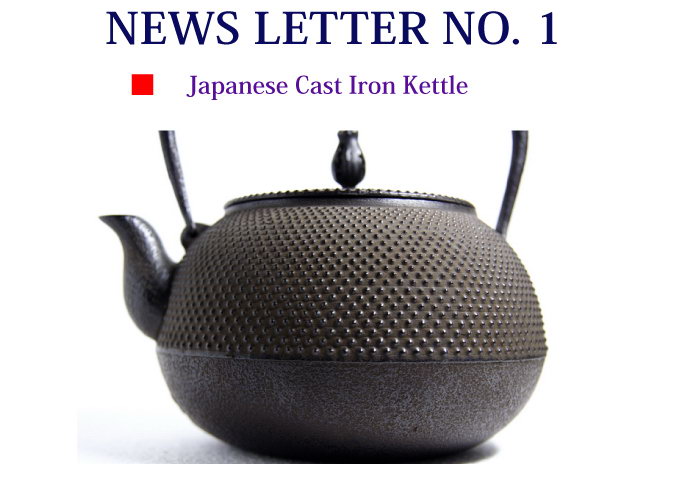 Greetings!
I am Akira Hojo from HOJO TEA SHOP. You are receiving this email because you have joined my list when you visited my shop at The Gardens Shopping Mall, Mid Valley. This is our first newsletter. It is our media of communication connects between HOJO TEA and customer. This time I have 3 news to share with you.
About Japanese Cast Iron Kettle
Arrival of New Type of Japanese Tea
PROMOTION Information >> Go to the bottom of this page
In this summer, I traveled to Iwate Prefecture and Yamagata in Tohoku Region in Japan. Right here is where the most prestigious Japanese iron kettle comes from. My objective is to meet the cast iron artists in person and learning the process of casting iron kettle in practical. It was a very precious experience and I like to share my knowledge.
In fact, people barely know about cast iron kettle, even in its origin production country in Japan. On the contrary, there are some people who always strongly demand on using the cast iron kettle.
It is because of its special performance; it is more than a kettle. The cast iron kettle can modify the taste of tea. In addition, thanks to the iron content, water gives an additional health benefit.
In this newsletter, I will explain the basic knowledge of cast iron kettle. If you wish to discover more details, please visit the following website.

Go to Japanese Cast Iron Page >>
1. It is So Good for Pu-erh and Green Tea!
Have you ever experienced the purple clay that changes the taste of tea? When I brewed tea using purple clay tea pot for the first time, I was very surprised as the taste of tea completely changed. It becomes sweet and mellow.
However, when I brewed tea using water boiled from cast iron kettle, it was beyond reach of imagination. The tea becomes much smoother, mellower and sweeter. In particular, the effect is very good for Pu-erh and Green Tea. This is the reason that driven many tea drinkers to look for a nice cast iron kettle. But, one may not be aware of the cast iron with glazing inside gives no effect in changing the taste of tea. Glazing is applied on commercial tea pot, not for kettle.
Please visit our shop at The Gardens Shopping Mall, Mid Valley City. You can ask for a demonstration on our kettle. Try it out first! You can judge the result by your tasting ability.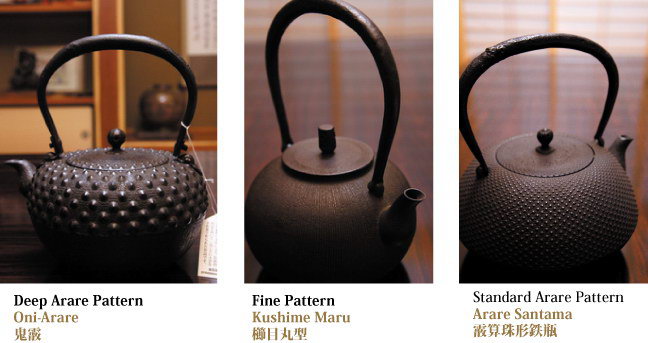 2. Is it Difficult to Use?
No, it is not difficult at all! The most recommended heating method for cast iron kettle is the Induction Heater. It is not necessary to use charcoal fire. In the market, the induction heater is cost about RM200 and above. You can start using it without great difficulty.
Many customers worry if it gets rusty. Usually it won't get rust if you always make sure there is no water remains in the kettle right after use.

TWO new Japanese Green Teas arrived at Hojo Tea Shop.
1. Special Deep Steam (Fukamushi Sencha)
It tastes so thick, with a strong body and very rich in antioxidant. During the process, this tea is steamed longer and destroys the cell wall that makes tea very thick. It is very easy to prepare: you do not have to control the brewing temperature precisely.
2. Karigane
This is the stem of Shizuoka Sencha. You may wonder why drinking the stem instead of tea leaves?! Do not underestimate this tea. The stem tea is very common in Japan. It is available even in Japanese mini-mart or super market. However Karigane is different grade. This is produced from the first batch of tea in early spring. It tastes very sweet and aromatic. When I first tried this tea, I could not stop drinking it continuously for more than a week.
3. What if the Cast Iron Kettle Becomes Rusty?
In food science, rusted iron is not toxic at all. Rusting is the oxidation of iron. The oxidized iron is no longer active and it does not react with our body. In Japan, certain cooking requires rusted nail to be boiled together in order to give an attractive color of food.
Nevertheless, you may feel uncomfortable to keep the rust inside the kettle. The right way of handling the kettle is written in our website.
If the extent of rust becomes very critical, we can send the product back to the manufacturer and re-bake it in charcoal fire. It is like "reborn" and almost new, although this requires some charges.
4. The History and Culture of Cast Iron Kettle
In Japan, the most famous cast iron tea ware is called Nanbu Tekki (南部鉄器). This is the traditional craft from Iwate prefecture. Their history has started since 16th century when Tokugawa started Edo Era (江戸時代). According to the record, Nanbu clan invited 4 casters in order to promote Nanbu Casting as their local industry. The 4 casters were Suzuki, Koizumi, Arisaka and Fujita. They were the main contributors in creating many iron products as well as promoting the tea culture.
In our lineups, the most high-end brand is SUZUKI MORIHISA : this is the direct stream of Suzuki Caster from the families mentioned above.
In Asia market, there are tea shops selling Japanese cast iron kettle. Customer often asked me about the difference between Nanbu cast iron kettle and those products. As far as I ascertain, the majority of high-end cast iron kettles in Chinese tea shop are imported from Taiwan. There are traders who purchase second hand kettle through the auction, recondition it, export to Taiwan and then re-export to Malaysia. Unlikely to Japanese market, Kyoto style kettle were appreciated in local market as they looks gorgeous. Moreover the cast iron kettle is something new in Malaysia market and the product knowledge is very limited.  We strongly recommend the Nanbu Cast Iron as it is the market standard and more people can recognize its value. Until this point, the price of Kyoto style kettle is pretty expensive as it passed through many channels before reached Malaysia market.
Go to HOJO Website: Japanese Cast Iron Page >>



Fu Tea is one of the most popular teas in HOJO. This tea is meant for the person who worries about taking oily food or intake of sugar. It is a good compliment when you are eating Bak Kut Teh. With Fu Tea, you can enjoy moon cake without much worry about sugar intake.
Now it is the good chance to buy more and stock! Do not worry about its shelf life; this tea can be kept for many years.
■ Proven by Mongolian! - High Vitamin and Mineral Content
In Mongolia, there is nothing but dessert. There is no sufficient supply of fresh vegetable. Due to the cold environment, people always eat meat and oily food. Can they still sustain their health?
For Mongolian, Fu Tea is more than Tea. It is for Life. They drink Fu Tea every day and it supplies them with Vitamins and Minerals.
■ Do you worry about Your Weight, Cholesterol or Sugar level?
Fu tea is known to contain a lot of polyphenol conjugated substances. These substances are produced by mold fermentation. Some recent studies showed that these substances effectively Reduce Sugar Intake. If sugar is reduced, subsequently Fat will be utilized and reduced.