1. What is the essential factor in brewing a good cup of oolong tea?
The most essential factor to get a nice cup of oolong tea is the brewing temperature. The higher the temperature, the better it tastes it. If you have a chance, I'd like to recommend you brewing oolong tea with a clay and a glass tea pot. You would be sure to experience the significant difference in flavor. The tea brewed with a clay tea pot is much hotter. With a higher temperature it effectively extracts the flavor and taste.
2. Unbelievable Performance of Natural Red Clay
I love oolong tea very much. However I have not paid much attention to the equipment for brewing the tea for many years. I used to think it was not necessary to spend so much money for just a tea pot. I thought the outcome would be the same as long as I use a clay tea pot.
But I was completely wrong. I had experienced the taste of oolong brewed with a type of clay called "Natural Red Clay Teapot". The moment I tasted the tea, I immediately noticed that the tea was very hot. I had burned my tongue in the process. The flavor was so pure, sharp and strong as well. I could hardly believe that it was the same tea. A Natural red clay tea pot does not react with the tea unlike the purple clay. Even if I poured the tea brewed with glass tea pot into a natural red clay pot, it does not change the taste.
The teapot was introduced by a friend. It is a Yi Xing tea pot from China. He bought it for RM6000. I imagined how nice it would be if I could spend RM6000 for tea pot!

3. Is the "Red Color Tea Pot" sold in an ordinary tea shop which boasts of "Natural Red Clay?
In an ordinary tea shop, you would see a number of tea pots in red color. We call it "red clay tea pot" in general. However those "red-color clays" are different from what I call natural red clay. Most of the red-color tea pots available in the market are made of synthesized red clay. The red color was produced with an addition of oxidized iron powder into the clay. Those artificially made red clay pots are also red, and of course not harmful and very similar to the color of natural red clay, yet it doesn't maintain the brewing temperature as high as a natural red clay tea pot. In actual fact, it is nothing compared to the Natural Red Clay tea pot but in appearance only.
Go to the Website about Sado Red Clay >>
4. What is the difference between "Natural Red Clay" and "Artificial Red Clay"?
It is hard for us to tell the difference between synthesized red clay and natural red clay just based on its outlook. Both artificial red clay and natural red clay contains a similar level of iron. The natural red clay contains not only a high percentage of iron, but other types of mineral as well. In natural red clay, the minerals exist in granule-crystal form that is made during natural re-crystallization. Thanks to the special granule structure and unique mineral composition, once the clay is baked, it becomes very porous and gives a high insulation effect.
5. Is the fine Natural Red Clay only from China?
In Japan, I tried to look for an equivalent fine red clay as the one made in Yi Xing, China. I did not look for it in China due to the following 2 reasons:
I can not tell how genuine the red clay is until I use it.
Even if I can find the genuine natural red clay in China, the market price is extremely high.
6. Sado Island (佐渡島): The Island of Gold
Have you ever heard of "Sado Island" in Japan? The island belongs to the Nigata Prefecture and is located in the Japan Ocean. It is an island made from active underwater volcano and has been in existence for many years.
Sado Island is historically famous in Japan for only one reason. It is known as "The Island of Gold". During the Edo Era, Sado Island had produced massive quantities of gold. The total length of mining tunnel leading to the gold mines to is estimated to be about 400km. The gold mine was discovered on 1601. It was shut down in 1989; it produced 78 tons of Gold and 2330 tons of silver. It was the major source of revenue for the Tokugawa government.
Wikipedia about Sado Island >>
7. Red Clay from Gold Mine
The mine produced not only gold and silver, but also red clay. This red clay is called Mumyoi red clay (無名異) or Sado red clay. It is formed in a layer of 4cm in the gap of Quartz rocks. The red clay contains a lot of oxidized iron and other types of minerals.
Due to the extremely high mineral content, Sado red clay had been used as a medicinal remedy which was applied to heal wounds. In particular, it was very effective in stopping excessive bleeding. During the Edo Era, Chinese medicine was sought after as Japan was not influenced by the West. At that time, Chinese medicine was called "Mumyoi".

The particle size of Sado red clay is very fine. In addition, the baking temperature of Sado red clay is very high; more than 1200 degree C. With the high temperature, the clay shrinks a lot; as much as 30% which is similar to the character of the purple clay. As a result, the product has a very high density that gives a remarkable insulation effect.

Oriental Beauty 東方美人
Miracle Made by Tiny Green Fly....
Oriental beauty is made of the tea leaves attacked by tiny Green Flies. When tea leaf is attacked, its color changes to yellow like
banana skin.The photo below shows some yellow spots that indicate leaf was attacked by this insect.
Due to the attack by insects, tea leaf produces certain types of antibody. To our surprise, this antibody gives a very identical fruity flavor, called Muscatel Flavor. It is like drinking sweet muscat wine.
The character of Oriental Beauty is not only about its flavor, but also its identical sweetness that is lingering in your mouth. This tea only gives this unique characters after being kept for more than 1 year.
Now it is the right time that HOJO release the 2007 crop. It is well matured and very rich in muscatel flavor.
We have PROMOTION ONLY for those who receive this newsletter. Promotion is valid until the end of October 2008.
With every purchase of One Can (30g) of Oriental Beauty at RM98, you will get 1 more Bag (10-15g) of Oriental Beauty for Free.
Please mention it when you purchase Oriental Beauty at our outlet. We recognize you as our regular customer.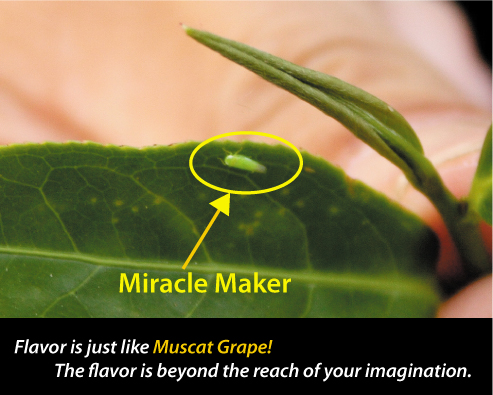 8. Why Is It called Mumyoi (無名異)?
In China, the natural red clay was used as a medicine to stop bleeding. In 1596 when a Chinese medical doctor李時珍 re-organized the Chinese medicinebook本草網目, he realized that there was no suitable name for this "red clay". He had tried to think hard for its name, yet he could not get suitable name. Finally, he ended up referring to it as Mumyoi (無名異) which means "Unknown".

Go to the Mumyoi Page Appears in 本草網目 in Chinese >>
During the Edo era, Japan was also importing the "Mumyoi Medicine" from China. As they found Sado red clay has the same properties, it was also named as Mumyoi and the clay ware made of the particular clay was called Mumyoi Yaki (無名異焼).
9. Is it coincident that red clay was found in gold mine?
Beside Sado Island, there are a few more historically famous gold & silver mines in Japan. I was interested to know whether or not other mines produce any red clay.
There is an interesting fact. According to the record, Izu Gold Mine (Shizuoka Prefecture, Izu Peninsula) and Ishimi Silver mine also produced red clay called "Mumyoi". In particular, Ishimi was also producing red clay ware. Unfortunately the Ishimi has stopped making red clay ware since their red clay was no longer available.?
10. Gold and Red clay are Both a Gift of Volcano
I noticed that people often talk about "clay made of volcano". In fact, it is nothing special if you know about the relationship between volcanoes and mineral forming. Good clay is always extremely rich in minerals.
Do you know where those minerals have come from?
They are produced by the volcano. Gold mine is made out of the volcano. When lava is coming up from the ground, it carries a complex of minerals dissolved in hot water. While it is slowly cooling down, minerals re-crystallized in between the gap of rocks (Quartz).

Similar to Sado Island that is made of underwater volcanoes, Japan has a number of volcanoes scattering over the country. As a matter of fact, Japan is a very ideal island to produce the fine clay for tea pot. In addition, there also exists a big chance to discover much more gold hidden somewhere in the mountains. ?
11. Excellent Quality equivalent to Yi Xing Natural Red Clay
Using Sado red clay tea pot, the brewing temperature is very high. This enhances the flavor of oolong tea which is beyond anyone's imagination. It was a new and surprising experience for me. I was so fascinated with the outcome and so happy of the fact that Japan could produce such fine red clay tea pots. The flavor of oolong tea brewed with Sado red clay was so excellent that I could not help using it for our own. It has been decided that from now on, any oolong tea in the HOJO tea shop will be brewed in the Sado natural red clay pot.
12. Extremely Rare and Limited
Sado Island is very isolated from the Japan mainland (Hon Shu). In fact, not many Japanese know of the existence of the Sado Red Clay Tea Pot. I spoke to some of my friends about Sado Mumyoi Red Clay. Sadly none of them knew about it. My parents-in-law are from the Nigata prefecture, yet they have no idea about the Sado red clay.
In Japan, the only place where you can find the Sado red clay tea pot is Sado Island itself. Despite its outstanding quality, Sado red clay tea pot was only sold in the island and not elsewhere. Ironically, Sado red clay tea pot is only sold as souvenirs to tourists who visit Sado Island.

There is another reason why Sado red clay is limited in Japan. Unlike to the purple clay, the red clay does not really influence the taste of green tea. Moreover the brewing temperature of green tea is low. Sado red clay shows its outstanding performance when brewing "Fermented Tea" such as oolong tea. Sadly very few Japanese drink authentic oolong tea. The remarkable performance of Sado red clay has never been revealed until now.
Critical Supply of Sado Red Clay Tea Pot in Future
Most tea pot artists have exceptional skills in producing high quality tea pots and they are rapidly becoming a rarity. The fact that Sado Island has produced 2 artists who were awarded the Living National Treasure of Japan is a great consolation.
However the number of Sado red clay artists is decreasing and they are aging. They are without a doubt in great demand. Obviously there is very less successor as well. It is especially difficult to find the artist who makes pure red clay pot with the back handle style. Sadly many of them focus on the glazed tea pot or celadon ware using Sado red clay as a base clay.
I am purchasing red clay tea pot from a well known and truly gifted artist by the name of Watanabe Tozo who is at 70 years old. I am quite concerned about the consistent supply in the future.
Sado Island is now applying for the World Heritage status. Once it is registered, the supply of Sado red clay may be even more critical. I have planned to purchase and keep as many Sado red clay as I can while he is still active and able to do so.
I brought in 15 types of Sado Red Clay Tea Pots. The majority is small in size; around 120-200ml. Please feel free to try and experience the difference in taste of oolong when using the Sado red clay pot. I am sure you will be pleasantly surprised and will unlikely forget the experience!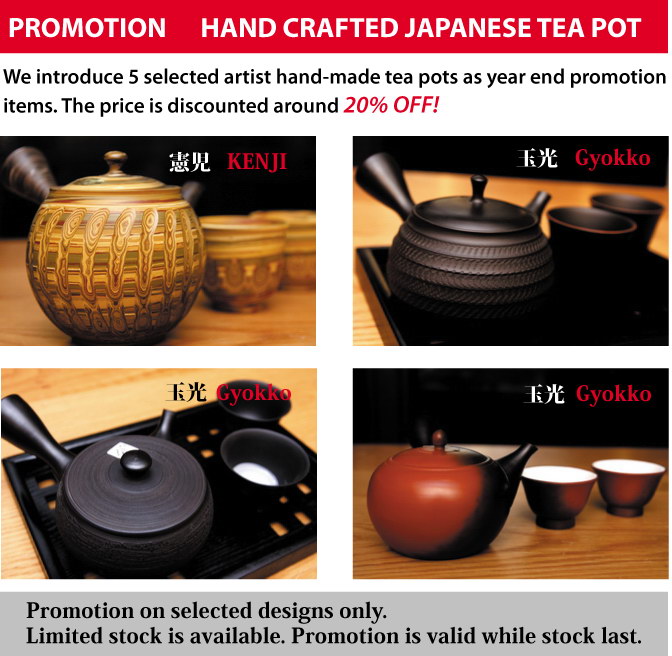 Back Number