HOME >
New Arrival at HOJO Online Shop
Snow Jasmine Tea 碧潭飄雪 is Now Available in Our Store
[2019.09.10] Posted By Akira Hojo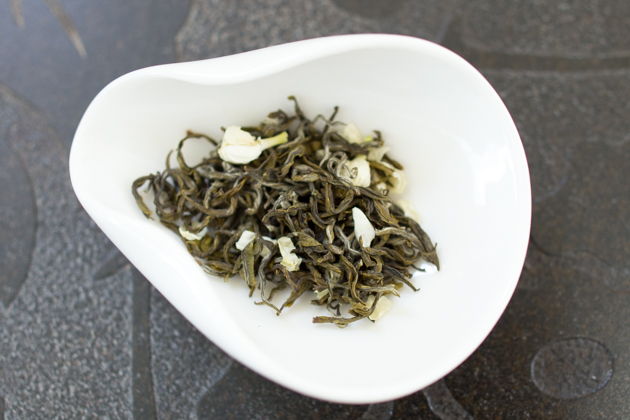 Snow Jasmine (碧潭飄雪)is now available in our store. This tea is made for those who are looking for the high-quality jasmine tea.
The quality of tea defines the quality of jasmine tea
Some people might think that jasmine tea is made from the flowers or leaves of jasmine tree. In fact, the jasmine tea is made from tea leaf, such as green tea or white tea, and then the tea leaf is scented with fresh jasmine flowers. So, the quality of the base tea affects a lot in the overall quality of jasmine tea. If we manage to get quality green tea and proceed for scenting with fresh jasmine flowers, eventually the jasmine tea will give not only the fresh floral flavour, but also very soft, long-lasting and sweet taste on palate.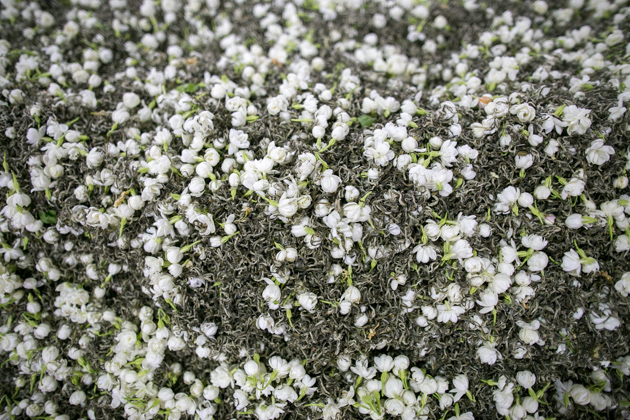 The photo above showed the Meng Ding Gan Lu
Last year we have found a manufacturer who can produce the Meng Ding Gan Lu of excellent quality. This year we have placed an order in advance even before season has started. We made an advance payment and have waited for the specific batch of good quality tea. Thanks to the advance booking, we managed to purchase sufficient quantity of Meng Ding Gan Lu. Part of the quantity is released as Meng Ding Gan Lu green tea, and the balance was sent to Guangxi for making Snow Jasmine.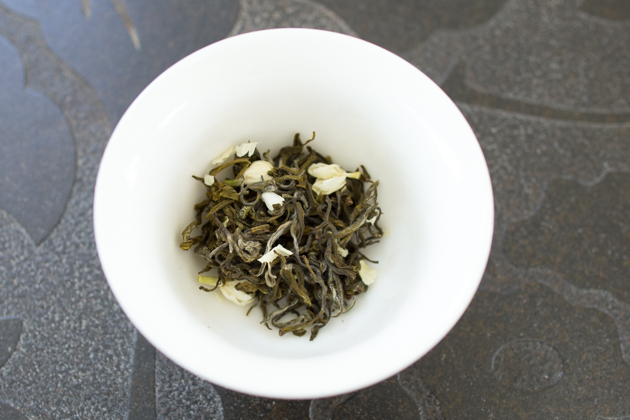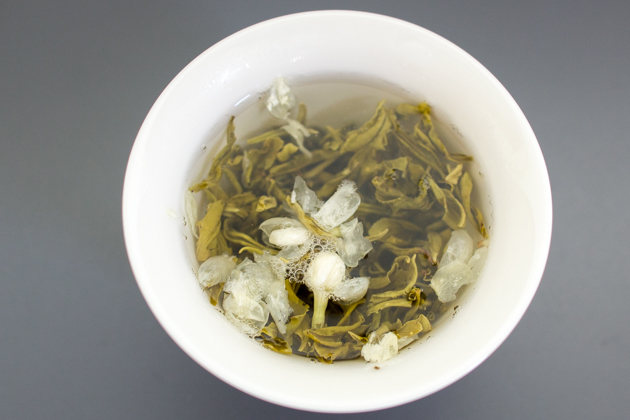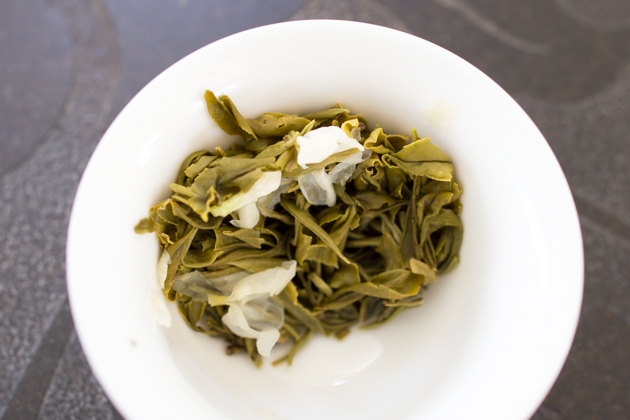 Excellent taste in cold water brewing
Thanks to the refreshing flavour of jasmine flower and very long-lasting aftertaste, the Snow Jasmine works excellently well for cold water brewing. It is soothing and pleasant to drink during warm weather. Thanks to the long-lasting aftertaste of Snow Jasmine, the cold water brewed tea is not just a drink but it is the bodily sensation that makes us feel that our body is absorbing minerals.
A tip for making nice cold water brewed tea is to use the water that is boiled once and cooled down. The taste of water changes a lot once it is boiled. It makes the flavour stronger and the taste is sweeter. Usually I use 5g of tea leaf in 1 to 2 litres of water. All you need is to put tea leaf in water and leave it in a fridge for half a day. Tea can last for 3-4 days as long as it is kept in the fridge. After brewing tea, please remove the tea leaf in order to avoid astringency.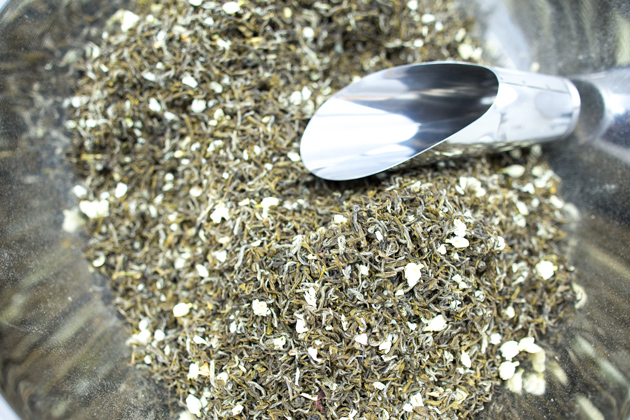 How to store the snow jasmine
We pack our tea with oxygen absorber in order to keep the bag of tea completely without oxygen. Usually, the freshness of tea will last for a few years as long as the bag is not opened. If you want to keep the tea more than a few years, please keep the unopened bag in the fridge. And, most importantly, after take it out of the fridge please make sure leave the bag in an ambient room for more than 24 hours before open the bag. If the bag is opened at once when it's out from the fridge, it will cause water condensation and the tea will be spoiled at once. For the same reason, once the bag is opened, please do not keep it inside the fridge to avoid water condensation.
Related Articles
How to get the latest update on HOJO?
1. Follow Twitter, 2. Click "Like" on Facebook, and 3. Subscribe in newsletter. You can have the latest tea news from HOJO.
Subscribe the Newsletter to enjoy the privileges

You may receive a free sample upon purchase, or you may have the priority to purchase special products. So please remember to subscribe our newsletter as well as the social network.
HOJO TEA Online Shop NEWS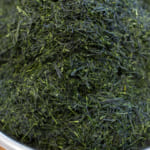 We have released a special Gyokuro, which are made from purely 100% Yabukita varieties. This tea is produced i …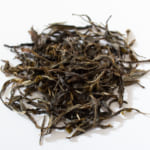 We have released Wu Jia Zhai Raw Pu-erh Tea. It is a Loose Tea (Mao-cha). This tea was made in 2018 and has be …
Category
Profile

AKIRA HOJO

I invite you to experience my tea selections.I was born in Nagano, Japan. In university, I studied agricultural chemistry, and I have the master degree in food science. I worked in Japanese food industry for 10 years. I involved in R&D, QC and QA. As a factory manager, I implemented ISO9000 series and managed the factory.
Media Release


We posted the article on "The Art of Tea Magazine No.9, the magazine is published in Taiwan. We featured …

The Malaysian National Newspaper, New Straits Times featured HOJO Tea on 17-Oct-2007.
Shop Info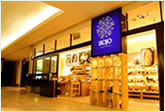 Address:Lot No. T-215, 3rd Floor, The Gardens Mall, Mid Valley City, Lingkaran Syed Putra, 59200 Kuala Lumpur
Tel: +603-2287-4537
Business Hour: 10am to 10pm