Dong Ding Oolong

The Basic Taiwan Oolong

Without the firing process, tea becomes extraordinarily sweet and its taste spreads in your mouth just like flowering blossoms.

Deep Fired Dong Ding Oolong

Suitable to drink after meal

With the firing process, tea gives a sweet nutty aroma. It is popular among elderly people and suitable to drink after meal.

Vintage 30 years Oolong

Good material, good technique, for a 30 year period

Tea has been matured for 30 years. It gives an extra smooth liquor like vintage brandy.

Oriental Beauty

Miracle made by tiny green fly

The tea leaves are bitten by green flies and produced antibodies which gives an unimaginably sweet fruity aroma and floral flavor. The longer it is kept, the better the quality it becomes.

High Mountain Formosa

Its flavor reminds us of fresh ripen fruit

Tea is made by collecting the tea leaves which were bitten by green flies and processed follow the standard method to produce Taiwan high mountain tea. Having a very strong fruity aroma and honey-like flavor with a sharp taste, this will completely change the image of Taiwan high mountain tea.

Spring Oriental Beauty

Only 20kg of tea is produced out of 1 hectare of tea garden throughout a year

One of the uniquest Taiwan Tea. Unlike Oriental Beauty that is produced in summer, this tea is made of early spring leaves which are bitten by green flies. These tea gives a strong flowery and fruity aroma with a sweet taste that lingers for a long time.

Li Shan Cha

The King of Taiwan High Mountain Tea

Tea is grown at 2400m. In Taiwan, people describe this tea as "Nothing is next to Li Shan Cha". The identical citrus and flowery flavor with thick body is incomparable to any other high mountain tea.

Ali Shan Cha

The Standard Taiwan High Mountain Tea

Tea is grown at 1600m. It gives a refreshing aroma that reminds us of flower or fruit. It is suitable to drink for Morning to Afternoon.

Ginseng Oolong

Shan-lin-xi oolong collaborates with ginseng root and osmanthus flower

Tea is grown at 2000m. It is mixed with Canadian ginseng and osmanthus flower. It gives strong after taste, flowery flavor and sweet taste.

Deep Fermented Dong Ding Oolong

Rare kind of Dong Ding oolong that is meant for serious tea lover.

The flavor reminds us with peach or chestnut.This is the tea that was once boomed in Taiwan back in 1980's.

Tian Chi Li Shan Cha

Tea is grown at 2500m, from the top of Li Shan.

This tea is one of the best Taiwan tea. It gives very clear flowral flavor and long lasting sweetness.

Mu Zha Tie Guan Yin

The very traditional Taiwan Tie Guan Yin

It has a complex and smooth acid-fruity taste, with no bitterness or astringent taste. The tea liquid has crimson colour

Tie Guan Yin Lan Yun

It is just like orchid flower.

The flavor is very clear, floral and long lasting. It is one of the most popular oolong in China.
Phoenix Oolong
We have huge lineups of Phoenix Oolong sourcing directly from the Phoenix town. We are make sure visiting there every year and select the tea on the spot. Our lineup is as follows.
https://www.hojotea.com/item_e/phoenix_e.htm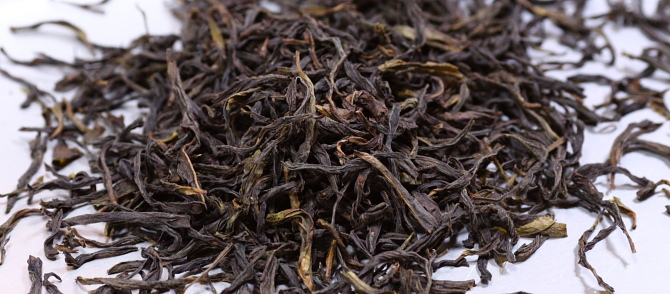 Phoenix Oolong Yu Lan Xiang
Phoenix Oolong Mi Lan Xiang
Phoenix Oolong Mi Lan Xiang Nong Xiang
Phoenix Oolong Mi Lan Xiang 2007
Phoenix Oolong Mi Hua Xian Nong Xiang
Phoenix Oolong Jin Yu Lan
Phoenix Oolong Song Zhong
Phoenix Oolong Song Zhong 2004
Phoenix Oolong Ba Xiang
Phoenix Oolong Ba Xian 2009
Phoenix Oolong Shui Xiang
Phoenix Oolong Huang Zhi Xiang
Phoenix Oolong Xin Ren Xiang
Phoenix Oolong Ya Shi Xiang
Phoenix Oolong Dong Fang Hong
Phoenix Oolong Tong Tian Xiang
Phoenix Oolong Ye Lai Xiang
Phoenix Oolong Mi Hua Xiang

Payment
We accept various kinds of credit card through Paypal.
Only if customer prefer other option of payment, we suggest "Bank Transfer".
Shipping
Various choice of shippping method
EMS, SAL, Small Packet, Small Packet (SAL) Yamato Express and Surface
For shipping tea, we usually suggest small air parcel, the estimated shipping cost of tea in 100g (with wrapping material ) is
Small Parcel
USA JPY 600, EU JPY600 and Asia JPY470
Small Packet (SAL)
USA JPY380, EU JPY380 and Asia JPY320
The shipping fee to oversea by small air parcel happens to be even cheaper than domestic shipping fee in Japan.
Custom Fee
For your information, some countries, EU in particular imposes custom duty. We need buyer to bare the duty. We are sorry, but we cannot change the amount on the invoice, and we do not mark any packages as gifts. We will strictly follow the custom regulation.