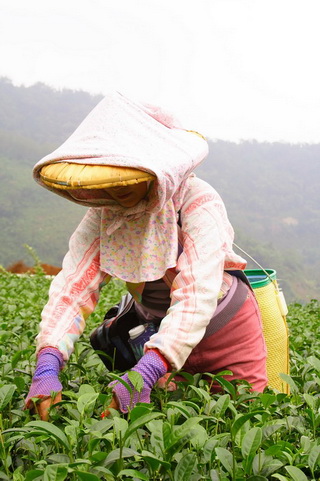 Tea Garden of High Mountain Oolong
Ali Shan cha is the basic of Taiwan high mountain tea. The king of Taiwan high mountain tea, Li Shan gives very strong flavor, yet aroma is relatively weak due to extremely high altitude. Some people like Ali San Cha as it is well balanced between Aroma and Flavor. The character of Ali shan cha in term of flavor and aroma is similar to Dong Ding Oolong (No Fired Tea). The difference is that Ali shan cha is more delicate flavor and stronger flavor than Dong Ding Oolong.

For the customer who is beginning to drink Taiwan tea. We always suggest customer to start with Dong Ding Oolong and then move on to Ali Shan Cha.
It is wonderful tea if you drink morning to afternoon.
1. History and Culture
Once upon a time, legend has it that a farmer had left his tea garden unattended as he was too busy to look after it. His tea garden was terribly attacked by a large number of green flies. All the bitten tea leaves changed into yellow in color. Nevertheless, he still processed the tea leaves as he could not afford to give up his tea. To his surprise, the tea processed from insect bitten leaves gave a very strong fruity flavor. Coincidentally, a European tea merchant noticed this tea. He loved its quality very much and named it as Formosa Tea. It is believed that this is the prototype of Oriental Beauty. High Mountain Formosa is made following the basic technique of making Oriental Beauty but with further development. In Taiwan, this is not even known among the locals. It can be said that it is introduced to the overseas market for the first time.
2. Production Area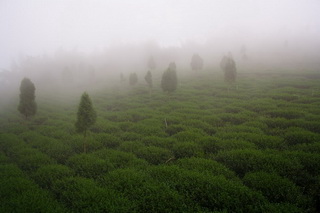 The tea garden gets very strong sunshine in the morning, but it is completely covered by fog in the afternoon.
The tea garden is located on the Ali mountain (Ali Shan) at Nantou County in Central Taiwan. Ali Shan is very huge mountain that consist of many small mountains in a row. In general, the more number of tea garden exist at lower elevation and limited number exist at higher altitide. Both tea garden produce so-called Ali Shan Cha, yet quality is far different. Our Ali Shan Cha is carefully selected from the tea garden that is located at 1600m. The higher altitude gives significant beneft to the quality of tea as follow.
A: Huge temperature gap between day time and night time.
Higher up on the mountain, the sunshine is stronger. Likewise, we easily get sun-burned when we go to higher altitudes for trekking or sky diving. Tea receives a lot of sunshine in a day time and effectively carries out photosynthesis. Tea produces a lot of organic substances and stores them inside its leaf. At night, the tea leaves will consume the energy (organic substance) for metabolism. At high altitudes, the environment is very different and the temperature at night is very cold that tea can hardly proceed metabolism effectively. After all, most of the organic substances are accumulated inside tea leaves which makes the taste of tea becomes very thick.
B: Winter comes earlier and Spring comes later
In winter, the mineral absorbed by the tea trees from the ground will be accumulated inside the tree. It is because of the plant remains dormant during the very cold environment. This is the resting period of the plant. More mineral will be accumulated in the tree if the resting period is prolonged. The accumulated mineral will be distributed into the first up-coming tea leaves in spring. Mineral in tea is the primary element that contributes to the long lasting after taste. In a way, the longer the resting period of tea, the better the taste of tea.
At high mountain like Ali Shan, winter comes earlier while spring comes later as compared to lower altitude areas. As such, the tea trees has even longer resting period. Tea contains an extraordinary amount of minerals.
3. Cultivar and Plucking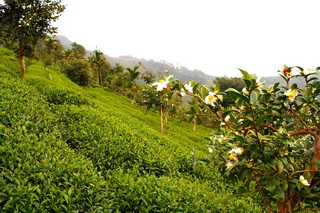 Tea Garden of High Mountain Oolong

Our Ali Shan Cha Quig ?Xin is produced from Qing-Xin Oolong (青心烏龍種). This is the cultivars traditionally used for Dong Ding Oolong that gives a very refreshing taste. The taste of tea made of this particular cultivar is flowery and sharp, yet it gives long lasting taste that longer on our throat.
Tea grown at organic garden appears to be less active and less productivity as tea gets less nutrition and pesticide as compared to the ordinary tea garden. As the identical characteristics, tea leaf turns into yellow color and sweetness in flavor and taste is outstanding.
Plucking is carried out by hand. 3 to 4 leaves including a bud is carefully plucked. Plucking is carried out in Spring, Summer, Autumn and Winter. The best quality is produced either from Spring or Winter. At the lower elevation in Ali Shan, plucking is sometimes carried out more than 10 times. Less number of plucking allows longer resting period to the tree that enable tea to absorb more mineral.
Our Ali shan cha is grown at 1600m. Thanks to the limited number of plucking throughout the year, tea contains more amount of mineral that gives strong flavor.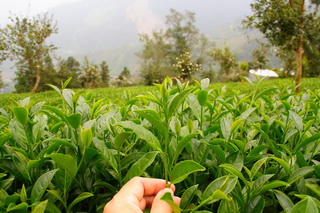 High Mountain Tea Garden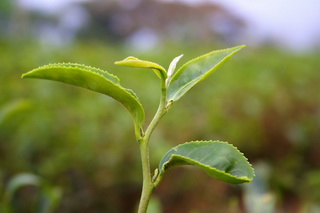 This is the tea leaf that is attacked by green flies and turns into yellow in color
5. Quality Inspection Method
Appearance of Tea Leaf:
Tea leaf is tight, round in shape and solid. The size of tea leaves is consistent and its surface is lustrous. Good quality tea are weighty when you hold some quantity with your palm you can most certainly feel its weight.
Consistency of Tea Leaf:
Good quality tea consists of tea leaves with consistent size and shape. The same shape indicates that good technique in tea making process and good material is used.
Foreign Material:
There is no foreign material such as fiber, bamboo, piece of wood, sand or stone.
Fragrance:
When it is brewed, it gives refreshing fruity and flowery aroma and flavor. This flavor lasts even after several brewing.
Liquor:
Bright and transparent, in golden yellowish color, and not dusty.
Taste:
Smooth and midium strenght of after taste. It gives sweet feeling in taste too.
Brewed Tea Leaf:
Tea leaves are very tender and elastic. It contains less broken or cracked leaves. Looking at the cracked leaves, we can understand the reason what caused the crack. If the cracked part shows a reddish color, it indicates it was damaged when enzyme was still alive, which means that crack was made before Rolling Process. This shows that either the leaves were not properly handled or tossing was too rough. If the cracked part remains green in color, it indicates the tea leaves were cracked during the rolling process or too excessively dried.
6. Recommended Brewing Method
Many customers are afraid of brewing oolong tea as it seems very difficult. However it is not that difficult once you understand the theory.
At first, bring the cool water to boil. Use soft water for preparation of tea. The water processed by distillation or reversed osmosis is not suitable for brewing tea. These water contains no minerals and it will cause tea to become tasteless. If normal tap water is used, it is advisable to use a filter. Boil the water just before brewing tea. It is very important to boil water so as to evaporate the chlorine and other types of contaminated substance in the water. Do not continue boiling for more than a few minuets as it will rather concentrate the mineral and the character of water may be converted to hard water.
The important point for brewing oolong tea is:
1) Use boiling water. 2) Avoid drastic decrease of water temperature. The sweet taste of green tea comes from the substance called amino acid which can dissolve in the water at a lower temperature. Therefore, low temperature is applied only for green tea. On the contrary, the taste of oolong tea comes from poly phenol and its oxidized substances. Those substances could only dissolve in the water at high temperature. In other words, you would not enjoy the real taste of oolong tea if it is brewed at a lower temperature. The taste of oolong tea very much depends on the brewing method.
Go to further information about suitable water for brewing tea >>
In order to enjoy oolong tea, always ensure that the water temperature is very hot. Use boiling water and rinse tea pot with boiling water to keep it hot.
Brewing Method 1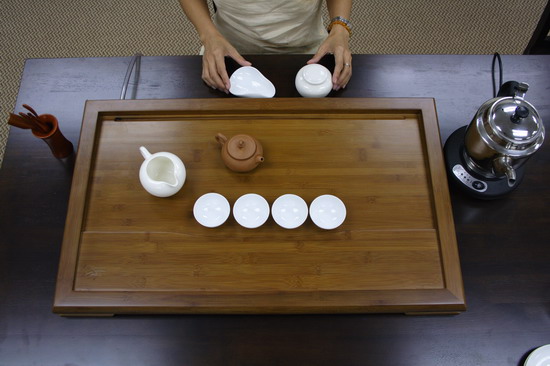 Arrange tea ware.
Brewing Method 2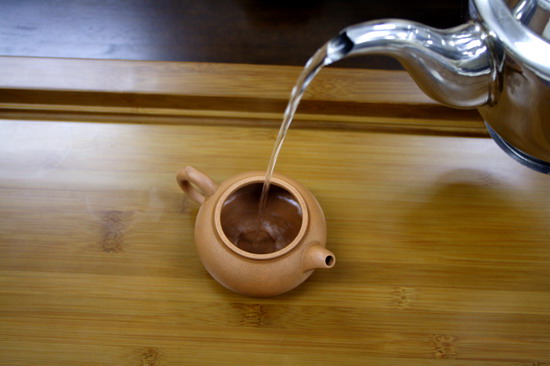 Pour boiling water into the tea pot and fill up to 70%-100%. This is to heat up the tea pot. If the pot is not warmed up, the temperature of water will drop drastically at around 20 degree C when a cold tea pot is used for brewing tea. This will affect the taste and flavor of tea.
Brewing Method 3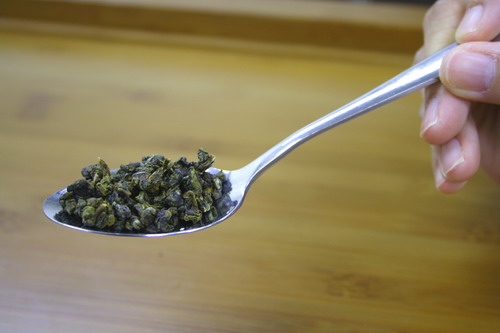 Usually 1g is equivalent to 25〜50ml of water. For the small tea pot of 150〜250ml, about 5〜6g of tea leaves is sufficient, which can be measured by 1 table spoon.
Brewing Method 4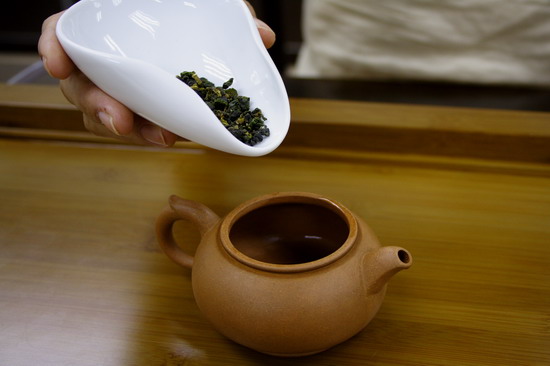 Place in about 5g of tea leaves. This photo shows the inspection plate which is convenient for placing the tea leaves. If the lighter taste is preferred, reduce the quantity of tea leaves.
Brewing Method 5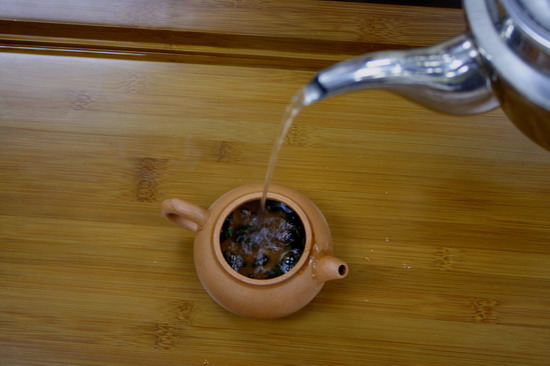 Pour in the hot water. When pouring water, try to pour from lowest position. Pouring from higher position, temperature get cooled down quuckly.
Brewing Method 6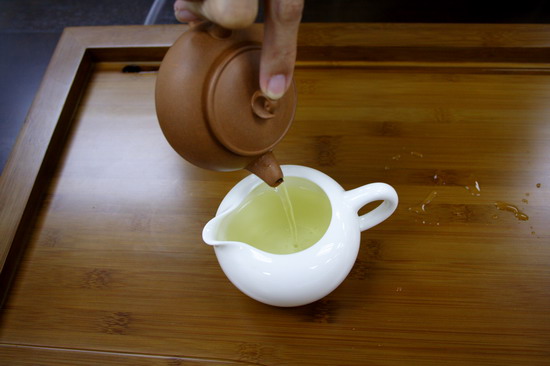 Within 10 seconds, pours off hot water into pitcher. Usually we recommend 7 seconds. The first brewing is to open up the tea leaves and warm up tea leaf.
Brewing Method 7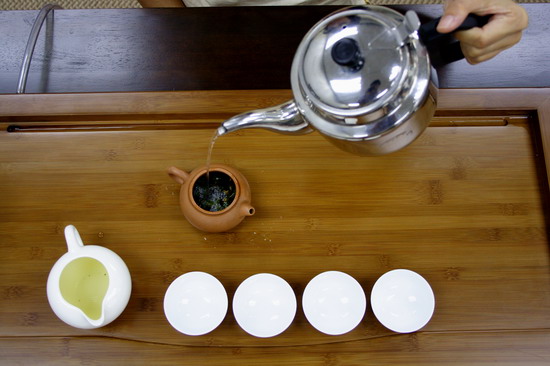 Pour boiling water into tea pot up to 90%.
Brewing Method 8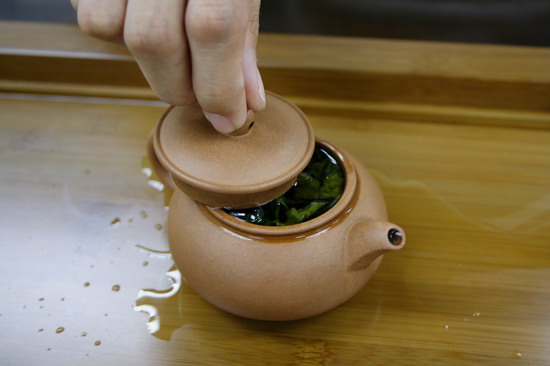 Gently place the lid and leave it for 55 seconds. For second brewing leave it for 45 seconds, follow by 55 seconds for the third brewing.
Brewing Method 9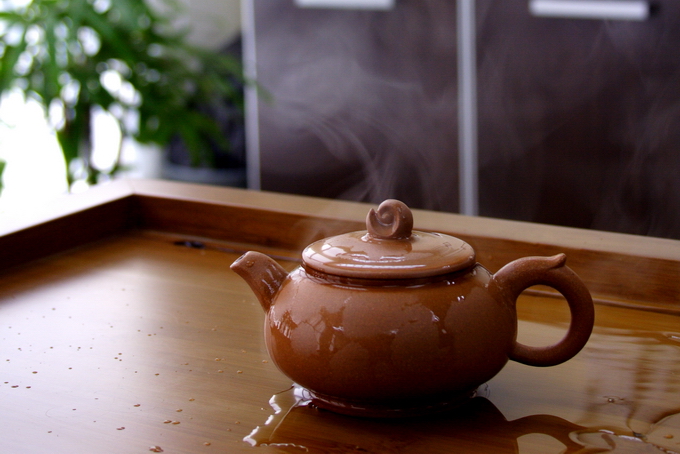 You can also pour boiling water over the cap in order to keep the tea pot warm. But this method is not a must.
Brewing Method 10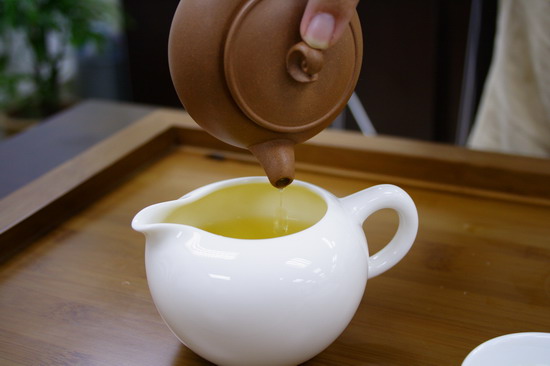 Pour tea into a pitcher completely until the last drop which is most concentrated. It is important to keep the tea leaves without liquor before subsequent brewing. Steeping the tea leaves in hot water will caused damage to the tea leaf.
Brewing Method 11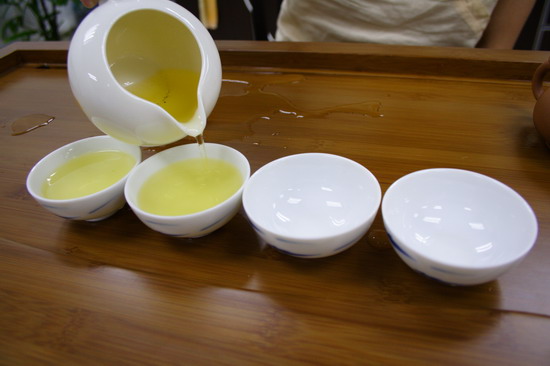 Pour tea from the right end which is supposed to be served for the guest. The one on the left is for the host.
Brewing Method 12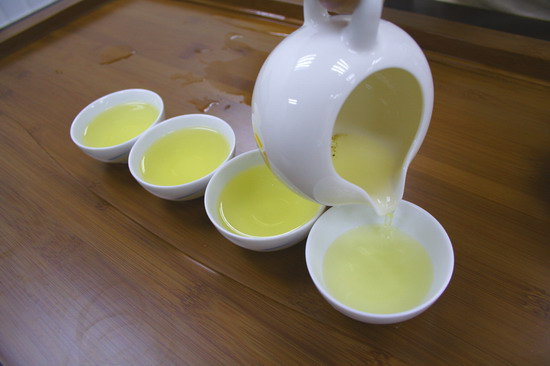 The last cup of tea (on the left) contains the small piece of tea leaves. This is for the host.
If you think that the above method is too difficult or not suitable, always develop your own method.
Enjoy a nice cup of tea as long as you follow the key points:
1) Use boiling water; 2) Do not cool down the water temperature.
For example, you can use a glass cup. When preparing the tea, after pouring boiling water into the glass cup, cover it tightly. It is also one of the ways. It is very interesting to learn about traditional methods as we can also enjoy the culture through the preparation of tea. However this is not a must. Under the circumstances, sometimes it is necessary to change the method.
Storage of Tea Leaves
Keep tea away from moisture
Once a bag of tea is opened, please finish it within 3 months if you wish to enjoy its freshness. From the medical point of view, it is safe to consume the tea even if it is kept for a few years. However the freshness disappears if it is kept for too long. Tea must be tightly sealed before it is kept. Tea should be kept in ambient and dry conditions such as in the living room, but it must be completely away from humidity. Tea should not be kept in the kitchen as the environment is very humid. Avoid enclosed area such as inside the cupboard or drawer as these places are damp. Also avoid opening the bag of tea in humid atmosphere. It is recommended to open the bag during a sunny day or under air-conditioned atmosphere. Once tea leaves absorb moisture, deterioration of tea will be triggered within a few days. Tea will then give an astringent taste, sometime it tastes sour. The fresh aroma also becomes weaker.
Beware of keeping the tea in the fridge
The quality of tea lasts longer if it is kept in the fridge. However we strongly recommend you not to keep tea in the fridge. When tea is withdrawn from the fridge, there is usually condensation. Once tea is exposed to moisture during condensation, the quality will deteriorate within a few days. The higher moisture content in the tea leaves will trigger oxidation and it will completely destroy the quality of tea.
Here's one frequently asked question: what happens if bag is sealed using tape or tea is packed in zipper bag and kept inside the fridge?
For your information, these simple sealing methods are not sufficient. When the bag is withdrawn from the fridge, it is cold inside the bag and therefore causes negative pressure. Air will be drawn from outside and condensation will occur. In addition, if the bag is taken in and out from the fridge very often, this will cause heat stress to the tea leaves as temperature is increased and decreased very frequently. If tea is kept in the fridge, when it is withdrawn from the fridge, it is necessary to leave it in ambient atmosphere for more than 24 hours in order to warm up the tea leaves. Based on our experience, 12 hours is not long enough. We may think tea is warmed up, but inside the bag, the tea leaves are still cold due to insulation effect.

Please feel free to send us e-mail for enquiry at:

Payment
We accept various kinds of credit card through Paypal.
Only if customer prefer other option of payment, we suggest "Bank Transfer".
Shipping
Various choice of shipping method
EMS, SAL, Small Packet, Small Packet (SAL) Yamato Express and Surface
For shipping tea, we usually suggest small air parcel, the estimated shipping cost of tea in 100g (with wrapping material ) is
Small Parcel
USA JPY 600, EU JPY600 and Asia JPY470
Small Packet (SAL)
USA JPY380, EU JPY380 and Asia JPY320
The shipping fee to oversea by small air parcel happens to be even cheaper than domestic shipping fee in Japan.
Custom Fee
For your information, some countries, EU in particular imposes custom duty. We need buyer to bare the duty. We are sorry, but we cannot change the amount on the invoice, and we do not mark any packages as gifts. We will strictly follow the custom regulation.