The taste of Sencha consists of bitterness, astringency, sweetness (umami) and total balance. Each taste is reflected by different types of substance. Therefore, depending on the brewing method, the taste-balance is influenced and the result in totally a different taste. We suggest that everyone should learn the standard method, and after understanding it, develop your own method and enjoy your cup of tea.
(1) Water
In you are using tap water, it is necessary to filter the water using an activated carbon filter. If not, you wouldn't be able to enjoy the authentic taste of tea. Chlorine is added to tap water in order to sanitize bacteria. This chlorinated water will also harm our body cells. Concerning about our health condition, it is very important to remove chlorine from drinking water. The most effective method in removing chlorine is to install an activated carbon filter. This type of filter is designed for removing organic substance. It will remove not only chlorine, but also other harmful substance such as contaminated pesticide. The activated carbon filter can be easily obtained from the common hardware shop in most countries. If activated carbon filter is not available, please place a charcoal inside the water and leave it for over night. The material composed of activated carbon filter is made of ground charcoal. The difference is that activated carbon filter contains much finer particles and hence it has extremely large surface area for a better efficiency in filtration. We do not suggest RO water (reversed osmosis water) or distilled water. This water carries no mineral, the taste and flavor of tea tends to be very unstable, unless you have very superior quality tea and tea equipment.
It is also advisable not to use fresh tap water. The intensity of after taste becomes stronger if water is kept overnight. Keeping water with stones or inside clay jar will increase the content of minerals. However, you need to confirm whether or not the water kept inside particular jar or with stone is suitable with your tea or tea equipment (such as teapot). If water jar carries certain minerals like copper or zinc, it will rather spoil the taste and flavor of tea. For this, you need to confirm with experiment on try and error basis.
For boiling water, please do not use aluminum or copper kettle. It spoils the taste of water. We suggest using kettle made of iron, stainless steel, tin or glass.
In the long run, you may observe a thick layer of scale accumulated inside your kettle. Our mother usually taught us to wash and remove it with citric acid. But please do not even try to remove the scale. Scale consists of minerals that exist in the water. The mineral composition is reflected from the water you used. If you remove the scale, the mineral ion balance between scale and water is destroyed. This balance is called buffer effect in science. The flavor and taste will seriously run out and you won't be able to get previous taste and flavor for a long time. It is also important to stick to the same type of water whenever brewing tea. If source of water is changed, it carries different type of minerals. It will affect the mineral ion balance too.
Go to further information about suitable water for brewing tea >>
(2) Quantity of tea leaves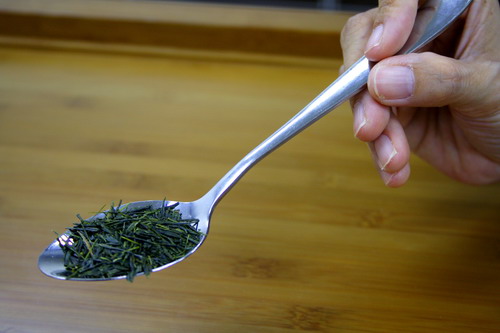 One tablespoon = 3 g

Usually divide volume of hot water by 50 in order to calculate the weight of tea leaf. For example: The volume of teapot = 200ml; 200ml/50 =4g. You need to measure 4g of tea leaf for 200ml of water.
(3) Temperature
It is important not to use boiling water. Boiling water should be poured into an empty glass or any container, let it cool down until you can hold the glass by hand for 5 seconds. Usually the temperature is relatively higher for Deep Steamed Sencha at around 75-80 degree, 60-70 degree for Sencha and 45-60 degree for Gyokuro. For second brewing onwards, gradually increase temperature by step-wise. Most importantly, do not jump up to boiling temperature. The more steps you have before reaching to boiling temperature, the more number of brewing you can enjoy.

(4) Brewing time
Pour the hot water into the tea pot, and brew for 1 minutes.For the second and third brewing, please stick to the temperature that is as low as the first brewing. Brewing time for 2nd and 3rd brewing is as short as 2-3 seconds. The forth and fifth brewing, please increase water temperature +10 degree C or increase brewing time another 10 seconds. The sixth brewing onward, please progressively increase brewing temperature in order to maintain the thickness of tea. At last, you can use boiling water to brew tea.
If use boiling water to brew Japanese Green Tea, all kinds of substance rush into the first cup, that will be extremely bitter. In addition, you won't be able to enjoy brewing tea up to 7 times as most of tastes are lost on first brewing.
It is advisable to use a clay tea pot as it improves the taste. Hojo recommends either purple clay or red clay. Purple clay makes flavor very strong, while aroma is a little weak. Red clay keep aroma but flavor is not as strong as being brewed by purple clay.
(5) Serving method
Traditionally, the Japanese never use a pitcher. The tea is directly poured from the tea pot into respective tea cups. In order to make the concentration evenly, we have to pour one cup after another, repeating a few times until the last drop of tea. The purpose of pouring until the last drop is to extract the concentrated liquor. This is important as tea leaves must be filtered well and kept without water to avoid the liquor becoming bitter and stewed. Besides, it prevents tea leaves from being over cooked. In addition, filtration will make it ready for the second brewing.
After pouring the tea, you have to leave the lid open to avoid further steaming of tea leaves.
(6) The point of brewing nice tea
Brewing tea at high temperature will give a bitterness and astringency while will overtake the sweetness which is the character of this tea. Therefore, brewing at lower temperature for longer time is important. However, if you prefer very hot and bitter taste, brewing at 90?C for 30 seconds is one of the ways, but controlling the timing is rather difficult and practice is necessary.
Brewing method using Hohin

Most of Green Teas can be brewed in cold water. The better quality of tea will gives nicer taste both in cold and hot water brewing.
1. Measure 1 table spoons of tea leaves for 500ml of water.
2. Pour in water and leave it for more than 1 hour.
3. Stir the container in order to even out its concentration.
4. Usually the taste of tea is getting thicker when it is brewed for more than a few hours. In this case,
5. Top up additional water. Eventually tea can be brewed more than 1 liters per 1 table spoons.

The benefit of cold water brewing is Tea can last for whole day and the taste is natural sweet and refreshing. Thanks to the cold water extraction, the level of caffeine in tea is extremely low. You would not suffer from sleepless night. It can be even enjoyed by kids.