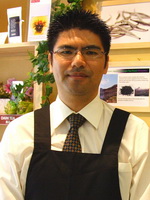 Profile of Akira Hojo:
1. Birth:
I was born in 1971, Nagano Prefecture, Japan.
My parents run an apple orchard in Nagano. I was trained by my parents from childhood to become a professional farmer. It had always been my father's wish that I follow his footsteps and take over the family business. Unfortunately for him, I chose to follow my own dreams and ambitions, to this day doing what I like the most.

2. Education Background:
Bachelor in Agricultural Chemistry (Japan)
Master in Food Science and Nutrition (Japan)

3. Professional Experience:
Worked in Japanese food industry for 10 years.
R&D Manager and later Factory Manager for the Malaysian subsidiary of a Japanese spice and herbs manufacturing company.
4. Specializations
Pulverization technology
Design of food processing plants
Dry and wet food Sterilization Technology
Food Science and Chemistry/Food Microbiology
Spices and Herbs, and their manufacturing process
HACCP / ISO9000 / GMP / 5S Practice
Quality Assurance / Quality Management
Granulation Technology
Pneumatic powder and bulk processing plant design
5. Focus on tea
I have loved tea and everything about tea since I was young and developed my own knowledge of tea drinking. But I felt that I was not good enough professionally. After leaving my corporate life, I spent 2 whole years furnishing myself and gathering advanced knowledge of tea. To get first-hand knowledge and to learn directly from tea experts and professionals, I have spent a lot of time visiting tea gardens in Japan, China, Taiwan and India that grew:

Japanese Tea (Green Tea)
Taiwanese Tea (Oolong Tea and Black Tea)
Chinese Tea (Green, White, Yellow, Oolong, Puerh, Black and Flower Tea)
Indian Tea (Darjeeling Black Tea)

I am familiar with Japanese and Chinese tea ware and its effect on the various kinds of tea. In particular, I am very familiar with purple clay, red clay and tetsubin (cast iron) tea ware.
6. Hobbies
1. Fishing: I love fishing more than eating. I usually go to the alpine river to fish trout.
2. Mountain trekking
3. Natural herb plucking
4. Natural mushroom plucking
5. Used to love tennis but recently my body can't keep up with this rigorous game.
6. Used to be very crazy in Mogul skiing. But I can not afford to risk myself anymore.
7. Used to love motorcycle. Now I am temporary not riding

My dream is to live on a self-sufficient lifestyle. I live half of the year in Nagano. Nagano is very rich in nature. Nagano is a well-known place since we had hosted the Winter Olympic Games back in 1998.
I live the other half of the year in Malaysia, where I directly face and come into contact to the modern tea culture and my customers.

I believe that tradition is a series of innovation. It is important to deal with tea from more scientific and logical approach in order to keep up improvement. I love to verify the myths that exist about tea one by one and come up with my own theories from a logical point of view.