Banko Yaki - The Most Famous Purple Clay Teapot in Japan
The first Banko was made back in year 1736. It was started in Yokkaichi City of Mie Prefecture 三重県四日市市. The person who established this technique is 沼波弄山. He hoped that his product's spirits will live forever, thus he stamped 萬古不易 (Banko Fueki)on his product.

The Banko ware produced during old era was called 古萬古.

Initially Banko was using white or yellow clay. But the white clay was over used and finished. Thus it changed to the existing local clay which is known as Purple Clay (紫泥).

Banko is baked with Reduction Furnace: 還元焼成 . It gives very limited oxygen into the kiln. The atmosphere is lack of oxygen and fill with carbon monoxide. Clay is reduced as no oxygen is available.

With the reduction furnace, the mineral, in particular Iron inside the clay changes to blue in color. After baking is completed, the baked teapot exposes to the atmosphere as door is opened, the surface of teapot is slightly oxidized. The oxidized iron is reddish in color, and when blue color mixed with this reddish color, teapot appears to be purple in color.

Banko purple clay can withstand very high temperature up to 1200++ degree Celsius. Due to the high-temperature baking process, clay becomes more porous and no taste of soil remained when brewing the tea. Moreover the surface area will drastically increase and this will expedite the interaction between water and minerals in clay.
What's About Purple Clay?
Yixing clay is called Zisha in general. Zisha (purple sand) and Zini(purple clay) is different. Zini is the mixture of all kinds of clay available in Yixing. Any clay that is produced in Yi Xing is automatically called Zisha. In fact, looking at the clay mine in Yi Xing from a little far, it appears in purple in general. That might be the reason why clay in Yi Xing is named as Zisha.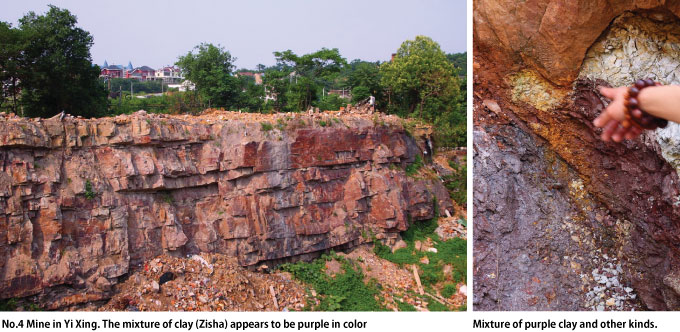 Basically Japanese purple clay and Yi Xing purple clay is different. Yi Xing purple clay is originally purple and baked with oxidation fire, while Japanese purple clay is yellow in color and baked with reduction fire. The banko purple clay is in yellow color which is very similar to zhuni in Yi Xing. Chuni is one kind of red clay which color is yellow in crude condition. Once it is baked with saturated fire, it gets oxidized and changes to orange. This is the one of the best Yixing clay that performs very well in terms of taste.
Yi Xing purple clay (Zini) are rich in Cu, Zn and Cr in addition to iron. Because of those minerals it appears darker color with oxidation baking. With the presence of those minerals, less number Yi Xing purple clay makes water taste soft.
Purple Clay Change the Taste of Not Only in Tea, But Also in Wine and Coffee.
Purple clay can change the taste of any kind of drink into a softer, smoother, mellower taste and enhance the flavor. In precise it slightly reduce aroma, yet drastically increase flavor.
You may surprise that it is even able to change the taste of wine. When you pour wine into the purple clay, it definitely changes the taste of the wine into a very smooth and mellow feel. Of course decanting itself makes wine oxidized and that changes taste too. But the changes I am referring is beyond the extent of normal decanting. In fact, silver also known to change the taste of tea and therefore there are silver kettle and teapot available. In old days, wine was consumed from silver ware. I assume it is not only fashion, but also because people knew of its effect.
It also works well with coffee. It becomes smoother and mellower. If you are used to the taste of coffee served in a purple clay cup, you will not be able to enjoy the coffee served in a normal cup any more. In fact, red clay gives even better effect on coffee.
Do you know what will happen if you try drinking beer from a purple clay tea cup? It induces a lot of fine bubbles and eventually the taste becomes too smooth and mellow. It was a terrible experience for me. I do not think there is anyone who can enjoy the smooth taste of beer. It tastes like expired beer.
Of course purple clay is very suitable for tea. You can use a purple clay tea pot, cup or even pitcher. These vessels can change the taste of tea. However purple clay is not suitable for all types of tea. It is very good for the tea that is nice with a mellow taste such as green tea, flower tea, pu-erh ripe tea and vintage pu-erh tea. On the other hand, purple clay is not suitable for tea that has a sharp taste such as oolong tea, black tea and raw pu-erh tea. If purple clay is used for oolong tea, you may feel that it is flavorless.
Why Does Purple Clay Change the Taste?
Purple clay contains 6-7% of iron. Iron in natural clay is usually in oxidized form and it is not active. It is activated when baked in unsaturated fire at high temperatures. If there is a sufficient intake of oxygen, the fire will be blue in color and will in turn supply oxygen to the clay. On the other hand, if there is a lack of oxygen, the fire will be red in color and generate Carbon Monoxide as well as smoke. This red fire is called unsaturated fire that reduces the oxygen from the clay. Once the clay is reduced, the oxygen is taken away from the mineral and eventually mineral gets active. This is called activation of clay. Activated clay can interact with water molecules and change its cluster. In fact, purple clay is not reacting with the tea itself, but with the water. In reality, any clay could be activated as long as it is baked in unsaturated fire. However different clay gives different extent of reaction.

However above explanation is not sufficient to understand why certain clay has great performance and other is not.

Some people comment how important the mineral content is. Honestly speaking, it is very easy to analyze the specific mineral content and artificially blend it in order to "create" clay that mineral content is identical with good clay. In a way, it is also easy to copy Yi Xing clay in terms of mineral composition.

However no matter how identical the mineral composition is, it does not perfom as good as original clay. It is due to the surface area. The natural clay has higher melting point and therefore mineral exist in granule shape, while artificially added mineral get melted at mich lower temperature. Once mineral get melted like glazing, it drastically reduces surface area and effect of clay disappear drastically.
Teapot Evaluation Technique Using Water
Teapot Evaluation Technique Using Tea
Affinity of Banko purple clay teapot
In general, banko purple clay gives long after taste. It is hard to connclude for which tea Banko purple clay is suitable. It is all depending on the water. It is not as simple as just to conclude with hardness or pH of water. The mineral composition drastically affect the outcome even if we are brewing the same tea. Based on the water in Japan, Malaysia and Singapore, Banko purple clay performs pretty well with green tea, ripe puerh tea and white tea.
Based on our experience, Banko purple clay teapot can get along with Kunzan and Seikodo kettle. But it is not a good partner of Suzuki Morihisa's kettle.
伝統工芸士 舘正規 Nationally Certified Artist Tachi Masaki
TACHI MASAKI is the Certified National Grade Hand Craft Artist (伝統工芸士) He is specialized in purple clay teapot, Banko Tea Pot. He is also certified as Human City Treasure of Yokkaichi City of Mie Prefecture: 四日市市無形文化財. Ultimately he is in the top five purple clay teapot artist in Banko Yaki.

When he was at the age of 21 years old, he has already been awarded the Minister's Prize in the exhibition. As it was, people started to call him "Genius".

In Japan, his work is very well recognized by teapot collectors and tea lovers. His product is very limited as each art piece is Specially Hand Made by him.

Tachi Masaki emphasizes that his teapot is not only a beautiful art piece but it is also very functional. It is "Functional Beauty". It is the design meant for brewing tea.

On top of the numerous prizes he was awarded in the past, he had an honor to present his work to The Prince and Princess of Japan (徳仁 & 雅子) when they visited Mie Prefecture. Now he is one of the auditors who select the new generation of Banko 伝統工芸士.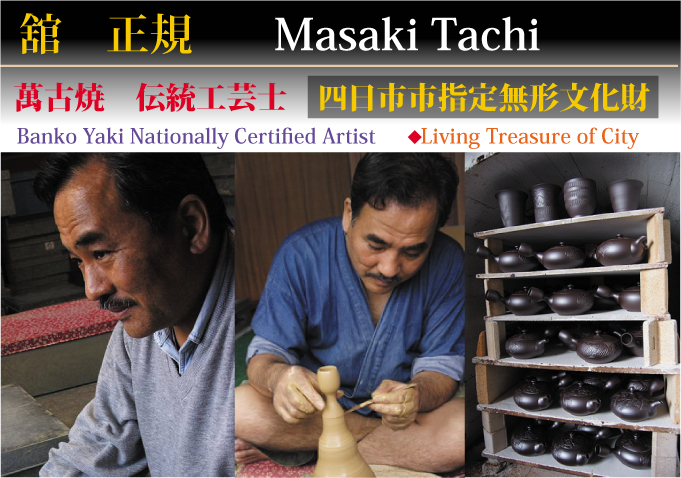 Demonstration of making teapot by Masaki Tachi
Chigire 千切れ
Chigire means "Thousand Cut" or "Slash" in Japanese.
The artist uses a needle to penetrate the surface of clay on the teapot. The clay on the surface is agitated and formed the unique pattern. It looks like an action of sewing the surface of teapot with a needle. The artist must stay steady and keep his hand very stable so that the pattern appears
consistently. It is also important that the artist sharpen the needle in an ideal shape so as to create the intended pattern.
In Japan, and not to mention in other countries, there are an extremely less number of artists who has competent skills in making the Chigire tea pot. Masaki Tachi is the only one who acquired this technique at the ultimate level that brings life to the teapot. There are some artists who sometimes make Chigire in Tokoname. But it is not up to the level that carries artistic value. His Chigire texture sometimes appears like snake skin of which model could even send for exhibition as no one could imitate such style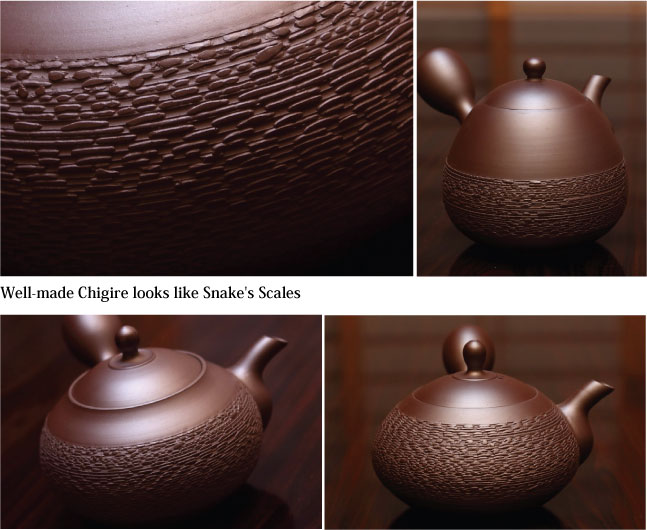 | | | |
| --- | --- | --- |
| | | |
| Tachi Masaki Teapot 05 | | Tachi Masaki Teapot 06 |
| | | |
| >Tachi Masaki Teapot 07 | | Tachi Masaki Teapot 07 |
| | | |
| Tachi MasakiTeapot 09 | | Tachi Masaki Teapot 10 |
| Tachi Masaki Teapot 13 | | Tachi Masaki Teapot 14 |
| | | |
| Tachi Masaki Teapot 15 | | Tachi Masaki Teapot 16 |

Please feel free to send us e-mail for enquiry at:

Payment
We accept various kinds of credit card through Paypal.
Only if customer prefer other option of payment, we suggest "Bank Transfer".
Shipping
Various choice of shipping method
EMS, SAL, Small Packet, Small Packet (SAL) Yamato Express and Surface
For shipping tea, we usually suggest small air parcel, the estimated shipping cost of tea in 100g (with wrapping material ) is
Small Parcel
USA JPY 600, EU JPY600 and Asia JPY470
Small Packet (SAL)
USA JPY380, EU JPY380 and Asia JPY320
The shipping fee to oversea by small air parcel happens to be even cheaper than domestic shipping fee in Japan.
Custom Fee
For your information, some countries, EU in particular imposes custom duty. We need buyer to bare the duty. We are sorry, but we cannot change the amount on the invoice, and we do not mark any packages as gifts. We will strictly follow the custom regulation.