Phoenix Oolong Ba Xian is a crossbreed of Shui Xian cultivar. Therefore it is a very close cultivar as Song Zhong. Under the same name of Ba Xian, there are many different qualities. Usually the old tea trees produce a better quality. HOJO specially selected Ba Xian from the tree which age is at about 500 years old. We have positioned this tea as super premium Phoenix Oolong. There is Ba Xian that priced at a much lower level. Even if the tea is called as Ba Xian, the quality is completely different between garden tea and Dan Cong tea. Besides, the quality is completely different between a 100 years old tea tree and a few hundred years old tree. Virtually they are different teas that happen to have the same name.


More information about Phoenix Dan Cong >>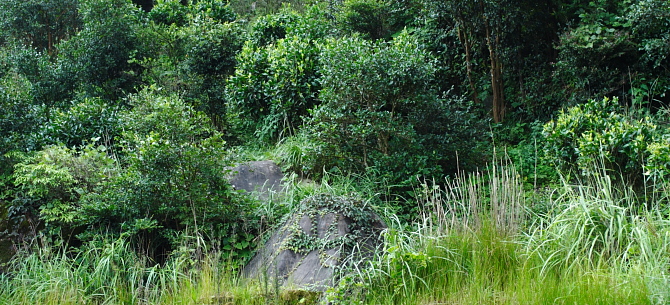 This shows neither mountain nor wild bush, but how the old tea tree grows in Phoenix Mountain. Each tea tree grows independently in the wild. These bushes-like tea trees are what we would refer as Dan Cong in Chinese. Dan Cong refers to the semi-wild tea bushes that aged more than a hundred years old.


Hojo introduces a Ba Xian that is made with deeper fermentation. It gives a much more matured mellow flavor than Son Zhong. If Song Zhong is like a wine, then our Ba Xian would be the brandy. Son Zhong has a fruity flavor like fully matured peach or apricot. Sometimes I feel that it is more like flavor of dried fruit. Thanks to the age of the tea tree, Ba Xian gives an overwhelming depth of after taste and a very strong intensity of flavor. Its flavor can traveled very deep down the throat. You will feel the warm feeling deep down to your chest. This is the ultimate rock tea which gives you a truly unforgettable tasting pleasure.

Phoenix Dan Cong generally does not get along with various kinds of "clay". Please use either glass or ceramic tea ware to brew it for the first time. If you notice that "your clay" improve the intensity of after taste better than glass teapot, you can feel free to use your clay tea ware. In my lineup of hand-made Japanese teapot, it is only Gisui's Tokoname Natural Red Clay that could get along with this tea.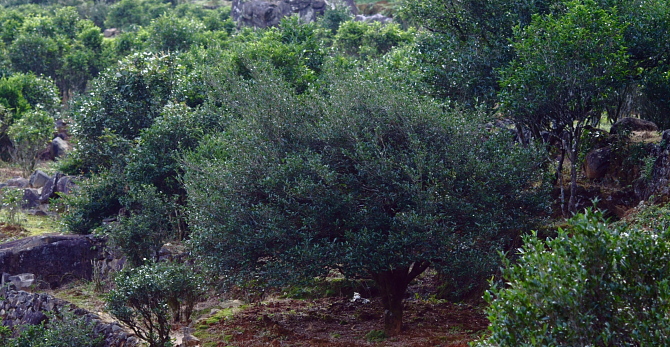 The bushes that look like the wild plant are all tea trees. Some of them are more than 500 years old. These semi-wild grown tea bushes are called Dan Cong. The majority of Phoenix Oolong in the market is made using the garden tea. For garden teas, it would be incorrect to name it as "Dan Cong".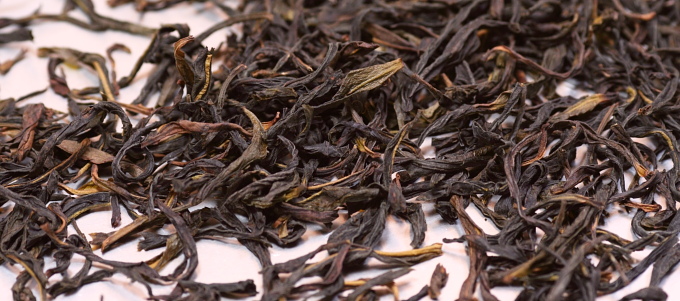 In China, tea is not completely sealed air-tight in aluminum bag like the standard used in packing Taiwan tea or Japanese tea. The only tea that is properly vacuum sealed is Tie Guan Yin in China. Traditionally, manufacturers only pack tea in a plastic bag and tie it with tape. Due to the quality of packaging material as well as sealing method, 100% of bag has pinhole or sometimes even bigger holes. This kind of packing method would not appear to be a problem when manufacturers sell tea to local customers. However it becomes a serious problem that jeopardizes the quality of tea when shipping tea to oversea. During air transportation, when the airplane travels high up in the sky, the temperature inside the cargo room of air plane can goes down to negative 50 degree Celsius. If there is any pinhole on the bag, the bag will aggressively intake air from outside. It is due to the negative pressure caused by extreme cold temperature. Eventually tea leaves will get water condensation and the quality of tea leaves will be spoiled within a few days. In order to prevent this problem, we specially arrange with our manufacturer in China to upgrade the facility of packing: all our tea has to be packed with deoxidizer in aluminum laminated bag and each bag is sealed with double-sided heat sealer.
Please click any photo below to enlarge it.
◇  Water
In you are using tap water to brew tea, it is necessary to filter tap water using activated carbon filter. If not, you wouldn't be able to enjoy the authentic taste of tea. Chlorine is added to tap water in order to get rid of bacteria. But this chlorinated water will also harm our body cells. Concerning about our health condition, it is very important to remove chlorine from drinking water. The most effective method in removing chlorine is to install an activated carbon filter. This type of filter is designed for removing organic substance. It will remove not only chlorine, but also other harmful substance such as pesticide. The activated carbon filter can be easily obtained from the common hardware shop in most countries. If activated carbon filter is not available, please place a charcoal inside the water and leave it overnight. The material composed of activated carbon filter is made of ground charcoal. The difference is that activated carbon filter contains much finer particles and hence it has extremely huge surface area for a better efficiency in filtration. We do not suggest RO water (reversed osmosis water) or distilled water. This water carries no mineral, the taste and flavor of tea tends to be very unstable.
It is also advisable not to use fresh tap water. The intensity of after taste becomes stronger if water is kept overnight. Keeping water with stones or inside clay jar will increase the content of minerals in water. However, you need to confirm whether the water kept inside particular jar or with stone is suitable with your tea or tea equipment (such as teapot). If the clay jar or stone carries certain minerals like copper or zinc, it will rather spoil the taste and flavor of tea. For this, you need to confirm with tasting experiment on a trial and error basis.
For boiling water, please do not use aluminum or copper kettle. These types of metal spoil the taste of water. We suggest using kettle made of iron, stainless steel, tin or glass.
After using kettle for some time, you may observe a layer of scale began to accumulate inside your kettle. Most of people might find the white brownish scaling disgusting and tend to scrub it off or remove it with citric acid. But we strongly advice you not to remove these white scale. Scale consists of minerals that exist in the water. The mineral composition is reflected from the type of water you used. If you remove the scale, the mineral ion balance between scale and water is destroyed. This balance is called buffer effect in science. As a result, you will not be able to get back your cuppa tea taste as good as it used to be. It is also important to stick to the same type of water whenever brewing tea. If source of water is changed, it carries different type of minerals. It will affect the mineral ion balance too.
For further information, please read my article on "what is the suitable water for brewing tea" >>
Once you've decided which water to use for brewing tea, please stick to only one type of water. When you switch to a different type of water, the accumulated scale start releasing minerals into the water and that could affect the taste of your tea is terribly affected. You need to spend another 6 months to 1 year to build up a whole new layer of scaling, then only you can get back the flavor and taste that you are used to.
◇ Essential to Manage Brewing Temperature
If you want to enjoy a nice cup of oolong, it is important to keep the brewing temperature as high as you can. Usually the temperature of boiling water (95-100 degree C) might cool down to about 20-30 degree C as soon as it is poured into a teapot. The drop of water temperature depends on the season and the material of teapot. In winter, a clay teapot can reduce the temperature of hot water down to more than 30 degree C. If you brew tea without warming up the teapot, you may be brewing your tea at 60-70 degree C. To make a nice cup of oolong tea, it is essential to warm up your teapot with boiling water. At first, pour boiling water into teapot, place the lid and leave it for about 10 seconds. Only after draining off this water, you can start brewing tea.
◇ Suitable tea ware for Phoenix Oolong

Phoenix Dan Cong tea is the oolong tea that is very peculiar. It does not get along with many kinds of material used for teapots. For example, it is not suitable to use Banko, Shigaraki, Watanabe Tozo's Sado clay tea pot. As far as I ascertain, the clay in my lineups that works very well with Phoenix Dan Cong tea is Tokoname red clay made by Gisui, Sado Oxidation and Reduction Clay by Shimizu Ken and Nigata Tsuiki-Doki Teapot. As for reduction Sado red clay by Shimizu Ken, it increases the intensity of after taste. But it reduces the flavor. Thus oxidation clay is more suitable unless you are very particular about the after taste. Based on my experiments, the Phoenix Oolong produced from the garden tea can be used with any kind of clay teapot.
Plase note that the above finding is based on using my own water both in Japan and Malaysia.


I have also checked the affinity of Phoenix Dan Cong tea with various kinds of Yi Xing and Chao Zhou clay teapot. In fact, there is no hard and fast rules on which the color of clay works well with this tea. I have tested more than 10 different kinds of Yi Xing red clay (hand made by famous potters) and found that only about 40 to 50% of the red clay teapots perform very well with Phoenix Dan Cong tea, while the rest of teapot made the taste and flavor of this tea extremely flat. A lot of customers believe that Chao Zhou clay works very well with Phoenix Oolong. You may well believe so since Phoenix Mountain is situated in Chao Zhou city. However the affinity with Chao Zhou clay is also depending on specific type of clay that potter used in production. Some clay works very well and yet some clay are so poor that they killed off the flavor of Dan Cong tea. We usually suggest customers to brew Phoenix Dan Cong tea using glass, porcelain or bone China. If you wish to examine whether or not your clay teapot works well with Dan Cong tea, please pour the tea that is brewed in glass, porcelain or bone china into your clay tea ware, and then taste each tea one after another. If you detect a deeper after taste and stronger flavor on clay-treated tea, it means your clay is suitable for this peculiar tea.



◇ 潮州工夫茶 Chao Zhou Gong-fu Style
In Chao Zhou area, there is a unique brewing technique called either Chao Zhou brewing style or Gong-fu brewing style. This brewing method requires a higher ratio of tea leaves to the volume of water. The Dan Cong tea will be steeped repeatedly, each for a brief time with boiling water. The advantage is shortening the brewing time and while extract concentrated flavors from tea leaves instantly. Less brewing time minimizes the contact of tea leaves with hot water. Eventually tea leaves are not overheated and we can enjoy a very fresh and original flavor of tea from each brewing. In addition, it is easier to make tea tastes much thicker and richer with this brewing method. If one is getting used to very thick Phoenix tea brewed in Chao Zhou style, it is hard for them to enjoy lightly brewed tea anymore. Since this method requires higher ratio of tea leaves, it is advisable to use smaller tea ware so as to minimize the consumption of tea leaves, thus preventing wastage especially those very high-end Phoenix Dan Cong tea from old tea trees.
In Chao Zhou, most of people use a Gaiwan to brew tea. It is suitable to use the Gaiwan with a capacity volume of about 50-100ml. Since you can brew most of Phoenix Dan Cong teas up to 10 - 20 times, a small Gaiwan is very ideal.
How do we use the Gaiwan to brew Dan Cong tea?
At first, warm up the Gaiwan with boiling water, and then place tea leaves up to 60-70% of the capacity of Gaiwan. Please remember to place tea leaves gently and not to compress it into the Gaiwan. Pour boiling water up to the level of tea leaves, and then place the lid and immediately pour out the water from Gaiwan. Repeat this action once more. It means you need to rinse the tea leaves twice with boiling water. This action is to warm up tea leaves and also to open up the leaves. These actions must be carried out swiftly so as not to lose the precious flavor and taste of Dan Cong tea.
For the actual brewing, it does not require long infusion like making other teas. Instead, you have to brew it the "touch and go" style. As soon as you pour the boiling water up to the level of tea leaves, place the lid to Gaiwan and then immediately pour out the tea without letting it soak. It is recommended to accumulate the 1st and 2nd brewing into a pitcher in order to even out the flavor and taste. For each subsequent brewing, you just need to brew less than a second. By brewing this "touch and go" style, you can continue brew up to nearly 20 times. Only for Dan Cong tea, you can brew as many as that.
This is the quantity of tea leaves in a Gaiwan after being brewed. The actual quantity of dry tea leaves should be less, around 20%. It is advisable to use small cups since Dan Cong tea is very precious and this method produces a very thick cup of tea. With this brewing style, you will be enjoying the intense flavor of Phoenix Dan Cong tea, with lingering after taste that lasts for a long time, especially if you brew the Dan Cong produced from old tea trees.
◇ Normal Brewing Method
Gong-fu style brewing method may produce a better outcome in terms of flavor and taste. On the other hand, the advantage of normal brewing technique is to make a light cup of tea. We suggest this method to those who want to enjoy their tea casually while at work or busy working on something else.
This method uses the teapot. To be on a safe side, please use a glass teapot. To understand how much tea leaves are needed, you can divide the intended volume by 40. If the volume of teapot is 200ml, the formula will be 200/40=5. It means you need 5g of tea leaves for a teapot with volume of 200ml.
At first, warm up the teapot for 10 seconds using boiling water and then drain out the water. Place the tea leaves into the teapot and pour in boiling water again. This is to warm up and open up the tea leaves. You need to drain out the water at once. Please do not soak tea leaves in water for more than a few seconds so as not to lose the precious flavor and taste of tea. For the first brewing, brew for about 10-20 seconds. From the second brewing onwards, you just need to run though boiling hot water (the "touch and go" style) or infuse for about 10 seconds if you prefer a thicker flavor and taste.