Our R&D staff has extensive experience and knowledge when it comes to spice and herbs. We wish to create scented tea without using flavored spraying, but to stick to the natural ingredients. Nevertheless it is not a herbal tea. The main ingredient of this tea is the Yunnan Black Tea. It is well-known for its thick taste, mellow, with body and sweet after taste. The mission of our R&D team is to enhance the characteristics of the Yunnan Black Tea to the maximum extent. The addition of natural ingredients gives a very good synergy effect; Gold Rush is well-balanced in terms of color, aroma, flavor and taste.
The osmanthus flower gives a fruity and sweet aroma. Its taste is enriched when added with a pinch of spices. The base tea is the Yunnan Black Tea which selected from an Organic Tea Garden. The Spices were sourced through our own sourcing network. Unlike the conventional scented tea, Gold Rush does not give an overpowering flavor, but is rich in taste of tea and you have no fear of the side effect of artificial fragrance. We particularly recommend this tea to ladies. How about having a cup of Gold Rush during your leisurely time and unwind and relax at home with someone special?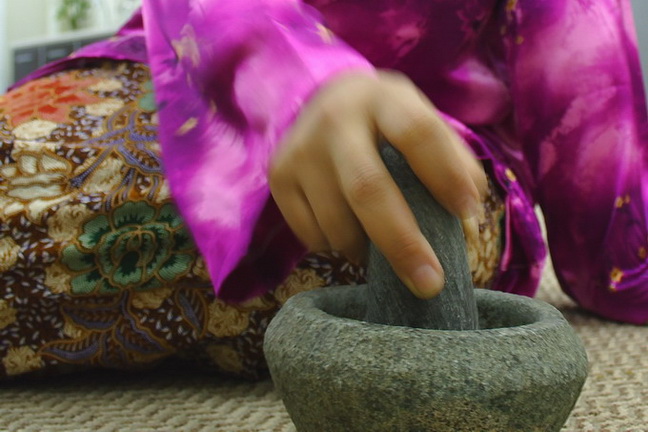 Instruction for Brewing Gold Rush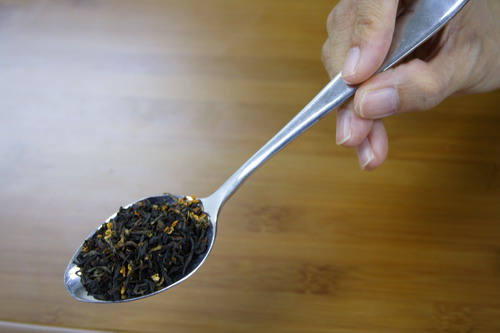 Two teaspoons are equivalent to 3g of tea leaves
Use a small glass or porcelain tea pot. When brewing the premium black tea, the method of brewing will affect the taste and flavor. It is suitable to use a porcelain tea pot. A glass tea pot is recommended if you wish to enjoy seeing the tea leaves when brewed in water.
At first, bring the cool water to a boil. Use soft water for preparation of tea. The water processed by distillation or reversed osmosis is not suitable for brewing tea. These water do not contain minerals and it will cause the tea to become tasteless. If normal tap water is used, it is advisable to use a filter. Boil the water just before brewing tea. It is very important to boil water so as to evaporate the chlorine and other types of contaminated substance in the water. Do not continue boiling for more than a few minuets as it will rather concentrate the mineral and the character of water may be converted to hard water.
Go to further information about suitable water for brewing tea >>
At first, pour boiling water into the tea pot and fill up to 70%. This is to heat up the tea pot. If the pot is not warmed up, the temperature of water will drop drastically when a cold tea pot is used for brewing tea. This will affect the taste and flavor of tea.
After 20 seconds, remove hot water from the warmed tea pot into the tea cups to warm it up.
For the small tea pot of 250ml, about 3g of tea leaves is sufficient, which can be measured by 2 teaspoons. If the tea pot is of bigger size, about 5g of tea leaves is necessary. The quantity of tea leaves used is adjusted based one's preference.
The brewing time of 3 minutes is adequate. If brew more than 3 minutes, the aroma from the spices becomes very strong. Therefore, the timing of brewing has to be well adhered to.
When the tea is ready, pour tea into a pitcher completely until the last drop which is most concentrated. It is important to keep the tea leaves without liquor before subsequent brewing. Steeping the tea leaves in hot water will caused excessive extraction of polyphenol and tannin which gives an astringent and bitter taste.
Recommended Storage Method
The tea leaves itself can be kept under ambient atmosphere. However, the flower and spices will deteriorate if it is not kept in the fridge. We do not recommend storing it in the freezer as it is less effective as compare to the fridge. Tea must be kept inside a plastic or aluminum bag and sealed tightly before placing in the fridge. Otherwise condensation will occur when it is taken out from the fridge. Due to the very low moisture content of tea leaves, it can easily absorb the odor from its storage environment. Therefore it is important to ensure the bag is tightly sealed.

Please feel free to send us e-mail for enquiry at:

Payment
We accept various kinds of credit card through Paypal.
Only if customer prefer other option of payment, we suggest "Bank Transfer".
Shipping
Various choice of shipping method
EMS, SAL, Small Packet, Small Packet (SAL) Yamato Express and Surface
For shipping tea, we usually suggest small air parcel, the estimated shipping cost of tea in 100g (with wrapping material ) is
Small Parcel
USA JPY 600, EU JPY600 and Asia JPY470
Small Packet (SAL)
USA JPY380, EU JPY380 and Asia JPY320
The shipping fee to oversea by small air parcel happens to be even cheaper than domestic shipping fee in Japan.
Custom Fee
For your information, some countries, EU in particular imposes custom duty. We need buyer to bare the duty. We are sorry, but we cannot change the amount on the invoice, and we do not mark any packages as gifts. We will strictly follow the custom regulation.