Golden Bud is the specialty tea produced at Guangxi (广西壮族自治区) in China. It comes from the specific cultivar found at Guangxi: 凌云白毫 (Ling-Yun Bai-hao). This was the first cultivar recognized as the fine breed (国家级良种) at Guangxi. In the past, it used to be the material for green tea since Qing Dynasty. In 1950's, it was exported to overseas market, such as Morocco. The King of Morocco, Hassan II was given this tea as the Gift Tea during his diplomatic visit to China. He kept it as his precious tea and only served it when he receives honored guests. Due to its downy appearance, it looks just like the bamboo shoots in the water when brewed while emitting a delicate fragrance; this was highly appreciated. It was said that due to its extremely downy appearance, once upon a time, it was suspected as the fake tea until further investigations were carried out that proved it to be its real character. In fact, other than its downy appearance, the green tea produced using this cultivar is less distinctive in terms of flavor and taste. Later, the research showed this cultivar contain high level of polyphenol (35.6%, compare to Keemun 19.81%, and Guang Dong black tea 34.17%) with certain amount of amino acid (3.36%, compare to Guang Dong black tea 1.53%), it is rather suitable to be processed into black tea.
At Guangxi, this tea tree is grown at mountainous area at 300-1000 m a.s.l, at the North and West part of Guangxi, such as Ling-yun County (凌云县 Ling-yun Xian), Long-lin County (隆林县 Long-lin Xian), Xi-lin County (西林县Xi-lin Xian), and etc.
The atmospheric temperature at Guangxi is relatively higher compared to other provinces: the average temperature throughout the year is 18-23?C. Due to the higher temperature, the harvesting season starts as early as March. During this time, the new shoots grow and a single bud is carefully hand-plucked and processed following the way of making China Gong-fu black tea: withering, rolling, fermentation, and drying.
Quality Inspection Method
Shape of dry leaf
Leaf is naturally curled, slender, tightly rolled, with buds showing a sharp point. If it is of poor quality, the leaf is loose and coarse, and without the sharp point.
Color of dry leaf
Leaves are in yellowish gold color, covered with down, and some bud contains leaf in black color. It looks glossy and lustrous. For poor quality, the leaf shows a dull appearance with brownish dark color.
Regularity
A good quality tea consists of pieces of leaves of fairly even size. If the tea is of poor quality, the leaves are mixed with lots of bold leaves which are flat, loose and large in size. This is made from old leaves which contains high levels of fiber that could hardly be rolled into tight strips during processing. These leaves give a thinner taste and lighter color when brewed. Besides, poor quality tea contains a lot of broken pieces which are lightweight. This is due to the improper handling and the finished product is not well sifted.
Cleanliness
The well-made tea must be free from extraneous matter such as fiber, bamboo or wooden flakes, sand or stone, dust. Stalk is unavoidable as the leaf is plucked during summer, but must be at a minimal level, e.g. a few pieces per gram.
Aroma
Dry leaf gives sweet sugary syrup flavor. When brewed, the liquor gives the same aromatic profile. After brewing, the aroma remains on the leaf.
Color of liquor
When brewed, the tea produces liquor with luster and bright reddish brown color. In a cup, it gives light and a bright golden ring appears near the edge of liquor to the cup. The golden ring is the sign that the tea leaves are rich in theaflavins that is vital for good quality tea. For poor quality tea, the color is dark red with a dull appearance.
Taste
Smooth, mellow with mild sweet after taste, and does not give a sharp or astringent taste.
Brewed leaf
It shows a bright brownish red color, very consistent and even over the leaf, indicating good quality and well-made tea. When touched with finger, it is soft and elastic. If the tea is of poor quality, leaves are a mixture of greenish brown and red color. It is mixed with matured leaf and contains less bud. Besides, the green color spot is found on the surface of leaf indicating insufficient oxidation. The leaf looks dull and lack of brightness, and is dark in color.
Recommended Brewing Method
It is suitable to use a tea pot and cups made from porcelain or glass. It is recommended to use a transparent glass tea pot in order to enjoy viewing the brewing of tea leaves in the water.
Use soft water for the preparation of tea. Hard water is not suitable because it contains higher levels of minerals which suppress extraction of substances from leaf, subsequently, the taste becomes very flat and thin and you can hardly enjoy the real taste of tea.
Warm the tea pot and cups well by rinsing it out with boiling water. This should be done just before adding the tea leaves, so that then leaves benefit from a gentle humid heat. For Black Tea, the main component is tannin which requires a high temperature for efficacious extraction. It is necessary to keep tea ware warm in order to maintain adequate temperature in brewing water.
Go to further information about suitable water for brewing tea >>
After 1st brewing, tea leaves must be filtered well and kept without water. This is to avoid the liquor from becoming bitter and stewed, and also to avoid unpleasant feeling of bits of tea leaves on your palate when drinking. Besides, it prevents tea leaves from being over cooked. In addition, tea after filtration will be ready for the next brewing. Some tea pots have a filter to retain the tea leaves. For tea pot without the filter, place a tea strainer on top of the cup before pouring the tea into the cup. It is not recommended to use the traditional tea ball that could place into the tea pot; tea leaves get locked in and cannot fully expand when brewed in hot water, thus they cannot release their full aroma and taste.
If the tea is too strong, add boiled water to the cup.
Tea leaves can be brewed up to 6-8 times. From the second brewing onwards, the brewing time is less than a few seconds..
Brewing Method 1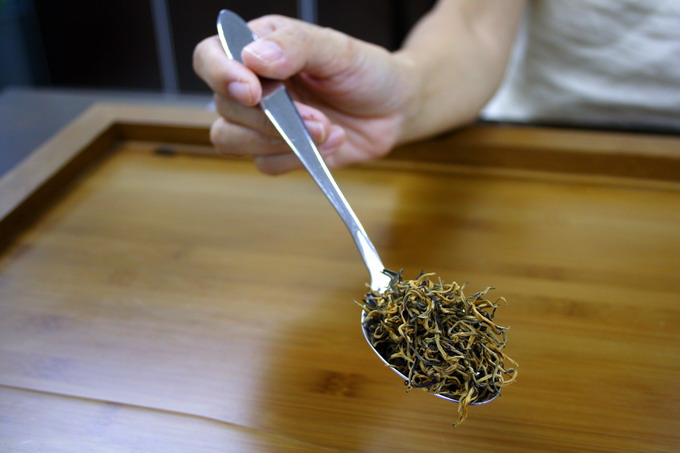 Usually 3g is equivalent to 150〜200ml of water. The photo shows a table spoon of tea leaves which is equivalent to 3g. The quantity of tea leaves used can be adjusted based on one's preference of taste.
Brewing Method 2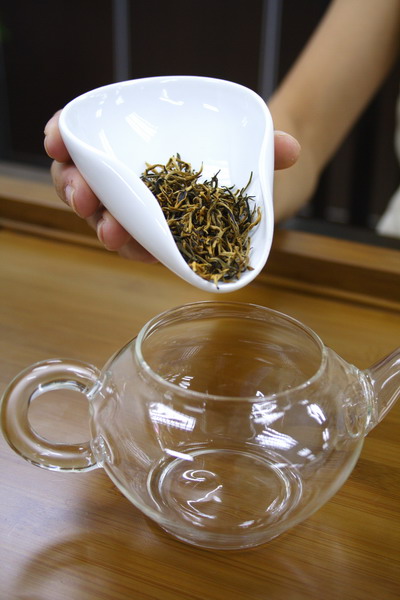 Place the tea leaves into the warmed tea pot. It is important not to touch the tea leaves in order to avoid the contamination of odor.
Brewing Method 3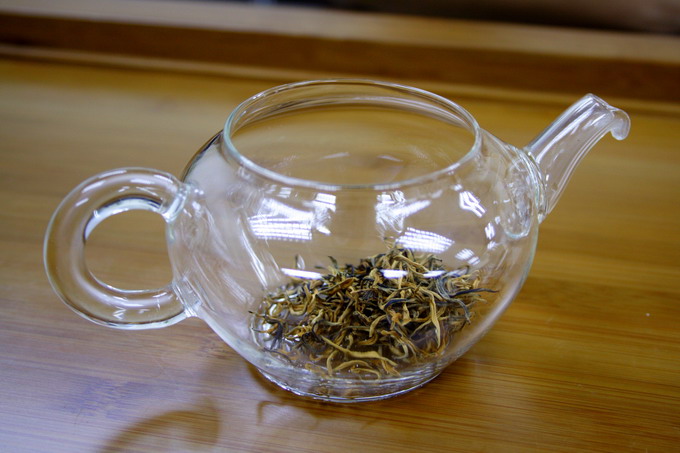 The photo shows the tea leaves in the tea pot. As shown, the quantity used is almost covering the bottom part of tea pot.
Brewing Method 4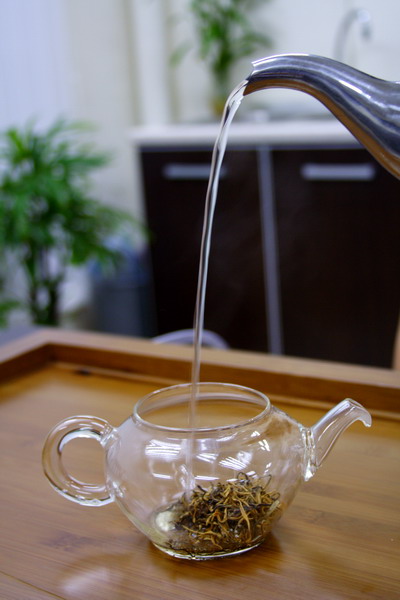 Pour boiling water from the lowest position to the teapot. Pouring higher position, water temparature get cold very quickly.
Brewing Method 5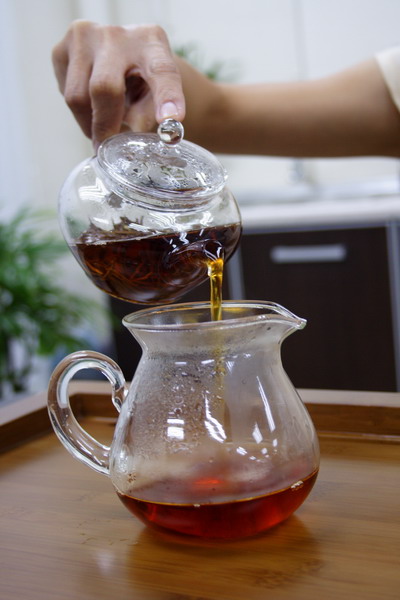 When the tea is ready, pour it into the pitcher at a lower position. If the tea is directly served into several tea cups, pour the tea into each cup alternately to equalize the concentration of tea in each cup. For a beginner, it is easier to use a pitcher.
Brewing Method 6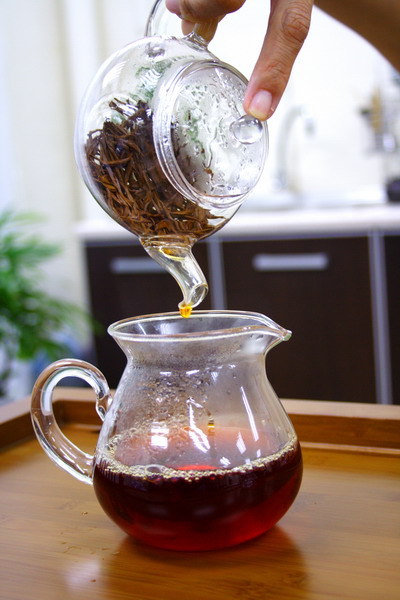 Pour tea into a pitcher completely until the last drop which is most concentrated. It is important to enjoy the following brewing.
Brewing Method 7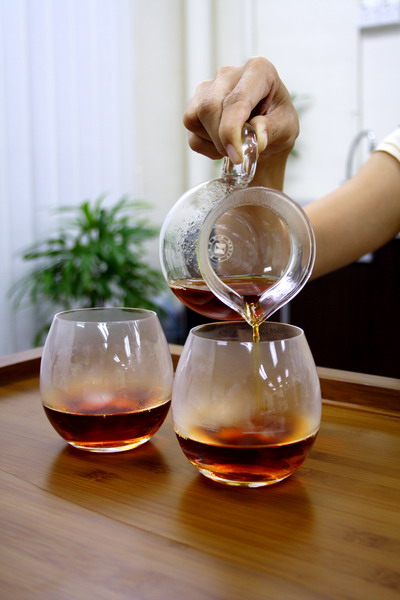 Pour tea from the right end which is supposed to be served for the guest. The one on the left is for the host.
Brewing Method 8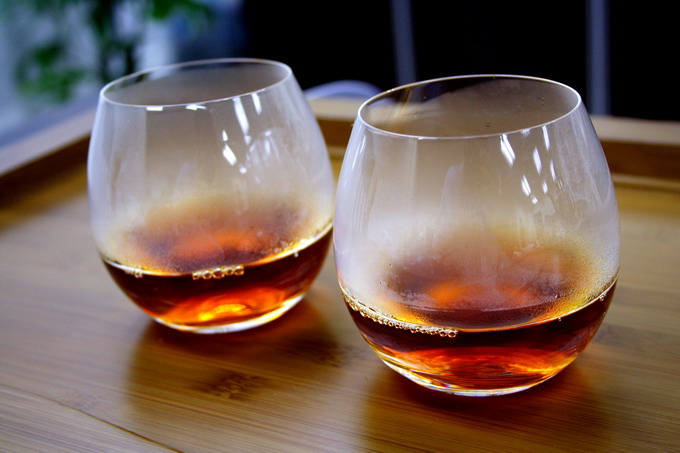 For this premium black tea, serving with a lesser quantity is better as you could truly enjoy its flavor.
Brewing Method 9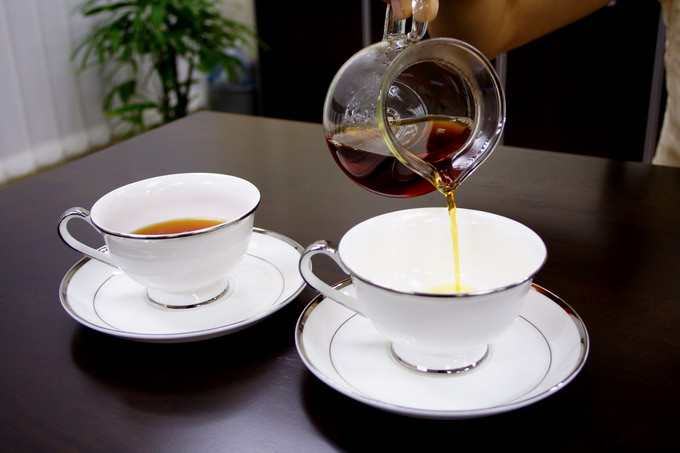 Here we introduce serving tea using a glass. It is also elegant to use English tea cup or China tea ware.
Brewing Method 10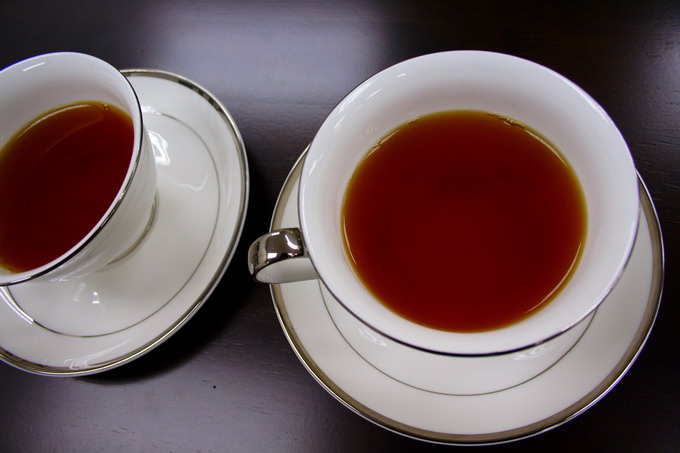 At the edge of tea cup, the golden ring is clearly seen indicating well-made tea and of good quality tea leaves.
Brewing Method 11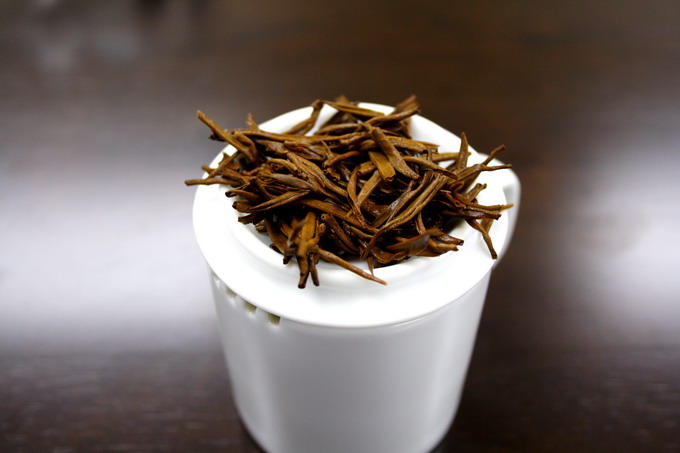 The leaves shown here lies on the professional inspection cup. If the tea leaves are of good quality, the brewed leaves give a strong flavor as well. This indicates that good material is used.
Storage of tea leaves
Stable Quality
Well fermented black tea is very stable for long storage and not necessary to apply any specific method during storage. Keep tea in ambient and dry atmosphere. The enjoyable quality is maintained for more than a year. Please strictly refrain from the humidity. Tea must be tightly sealed when it is kept. Avoid enclosed area such as inside cupboard or drawer as these places are damp. Please also avoid opening tea inside humid atmosphere. Once tea leaf absorbs some moisture, the deterioration will be triggered.
Be aware of keeping inside fridge
Although many people think that keeping tea inside the fridge is the best, it is not advisable from technical point of view. Tea which is cold temperature easily gets water condensation when it is taken out from the fridge. Once tea gets water condensation, the quality will deteriorate within a few days. Moisture trigger oxidation and it completely destroy the quality of tea. If tea is kept inside fridge, it is necessary to leave it in ambient atmosphere for 24 hours in order to gradually warm up tea leaf. Based on our experience, 12 hours is not long enough. Tea looks warm, yet inside tea leaf is still cold due to insulation effect. In any case, for this particular tea, please do not even think of keeping inside fridge.
Enjoy maturation
You can also enjoy the changes of taste and aroma caused by the maturation. During few years of storage in ambient atmosphere, tea gets matured and changes its character. Tea lost refreshing aroma like flower or fresh fruit but to give more matured and sweet aroma. It is hard to say which is better between fresh and matured tea. It is depend on individual preference. In general, elder people prefer matured taste of tea.

Please feel free to send us e-mail for enquiry at:

Payment
We accept various kinds of credit card through Paypal.
Only if customer prefer other option of payment, we suggest "Bank Transfer".
Shipping
Various choice of shipping method
EMS, SAL, Small Packet, Small Packet (SAL) Yamato Express and Surface
For shipping tea, we usually suggest small air parcel, the estimated shipping cost of tea in 100g (with wrapping material ) is
Small Parcel
USA JPY 600, EU JPY600 and Asia JPY470
Small Packet (SAL)
USA JPY380, EU JPY380 and Asia JPY320
The shipping fee to oversea by small air parcel happens to be even cheaper than domestic shipping fee in Japan.
Custom Fee
For your information, some countries, EU in particular imposes custom duty. We need buyer to bare the duty. We are sorry, but we cannot change the amount on the invoice, and we do not mark any packages as gifts. We will strictly follow the custom regulation.