HOME >
New Arrival at HOJO Online Shop
Phoenix Lao Cong Gui Hua Xiang Dan Cong
[2013.08.04] Posted By Akira Hojo
Why do we have to visit Phoenix town every year?
We have been visiting Phoenix town every year since 2010. Sometimes, my customers query and wonder why do I have to make trips there rather than just request some samples instead. Without a doubt, it would be easier, cost saving and time efficient if the right tea could be chosen without having to go there. Though, if we would to buy a lower grade Phoenix tea produced from a garden, then selecting tea based on tea samples would be sufficient. However, the tea we require is the Phoenix Dan Cong oolong where each batch of Dan Cong consists only less than 5 to 10 kg and there are multiple varieties. Therefore, it is essential to choose the ideal batch on the spot based on the tasting. In particular, there are some special tea such as Lao Cong Dan Cong oolong that only has less than 2 or 3kg in one particular batch. Only if we are there, the manufacturers will be willing to let us taste such tea face to face.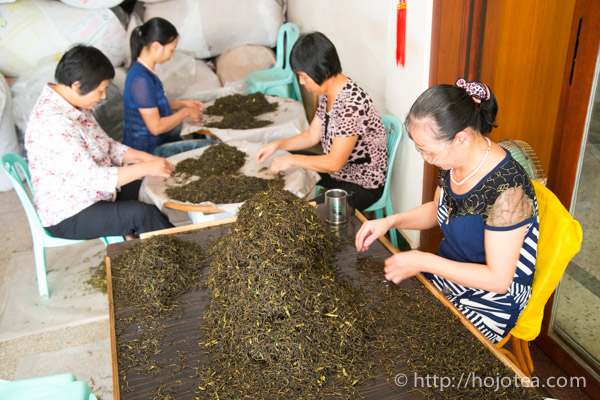 The Skills of Selecting Tea
If anyone just happens to visit the same manufacturers we did and wanted to select teas, their options of tea would be different than ours as the manufacturers generally select the tea according to the customer's requirements. Selecting tea is different from tasting tea. When purchasing tea for our own consumption, we could just decide on the tea based on personal preference and impressions. Conversely, selection of tea for business requires a clear standard of criteria and a consistent tasting skills to acquire the desirable tea. Sometimes during our journey, we fall sick, catch a cold, suffer from food poisoning, lack of sleep or feeling ill for some reasons; we still need to maintain the consistency in selecting tea. For instance, there are several ways to verify the quality and precedence of tea. The after taste, body, the type of flavor, process defects, astringency and bitterness are the main criterion for selecting a good tea. We need to analyze the teas with each criterion and compare them to the market requirement.
In Phoenix town, we have tasted nearly 100 teas starting from the lowest grade tea. When we managed to taste the competition grade, it was already passed mid night. It was like a tea marathon and I felt really exhausted when I reached the hotel after completing the tasting.
We bought limited Lao Cong Phoenix Dan Cong Oolong
In addition to our regular line-ups, we have selected two very special types of Phoenix Dan Cong oolong tea this year. These are the teas from very old tea trees called Lao Cong. The age of the tea trees are more than 300 years old. These two teas are not even sent for the tea competition since the total quantity that the manufacturer could produce was less than 3kg. To send teas for a competition, they need to surrender a minimum of 1kg for evaluation and tasting. Due to its high quality and value, the manufacturers would not want to sacrifice such precious teas just for the competition. You may wonder what is so exceptional about these Lao Cong Phoenix Dan Cong. Well, these two teas produces extremely deep and long-lasting aftertaste and the drinking feeling is soft like cream and smooth. You may presume that the tea is penetrating into your throat; plus, the flavor is very thick and long lasting. These are the symbolic tea of Wu Dong Shan. The prices are certainly high that even I myself has very less chance to drink. As these teas are from Lao Cong, the quantity of one batch is very small and we have limited stock available.
2 special teas that we bought this year was
Lao Cong Gui Hua Xian Dan Cong : JPY9,300/15g, JPY23,000/40g,JPY68,000/120g and JPY163,000/360g
Lao Cong Sonzhong Dan Cong : JPY10,000/15g, JPY25,000/40g, JPY74,000/120g and JPY178,000/360g

If you do not want to miss these teas, please make a pre-booking.
Related Articles
How to get the latest update on HOJO?
1. Follow Twitter, 2. Click "Like" on Facebook, and 3. Subscribe in newsletter. You can have the latest tea news from HOJO.
Subscribe the Newsletter to enjoy the privileges

You may receive a free sample upon purchase, or you may have the priority to purchase special products. So please remember to subscribe our newsletter as well as the social network.
HOJO TEA Online Shop NEWS

We have released High Mountain Purple Black Tea. This tea is one of the most popular black teas in our line-up …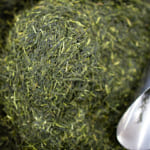 We have released two types of 2022 Japanese green tea from Tsukigase, Nara Prefecture. 1. Tsukigase Zairai Sen …
Category
Profile

AKIRA HOJO

I invite you to experience my tea selections.I was born in Nagano, Japan. In university, I studied agricultural chemistry, and I have the master degree in food science. I worked in Japanese food industry for 10 years. I involved in R&D, QC and QA. As a factory manager, I implemented ISO9000 series and managed the factory.
Media Release


We posted the article on "The Art of Tea Magazine No.9, the magazine is published in Taiwan. We featured …

The Malaysian National Newspaper, New Straits Times featured HOJO Tea on 17-Oct-2007.
Shop Info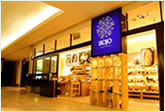 Address:Lot No. T-215, 3rd Floor, The Gardens Mall, Mid Valley City, Lingkaran Syed Putra, 59200 Kuala Lumpur
Tel: +603-2287-4537
Business Hour: 10am to 10pm