HOME >
New Arrival at HOJO Online Shop
Gyokuro Yabukita, Single Cultivar Hon Gyokuro from Asahina
[2021.02.08] Posted By Akira Hojo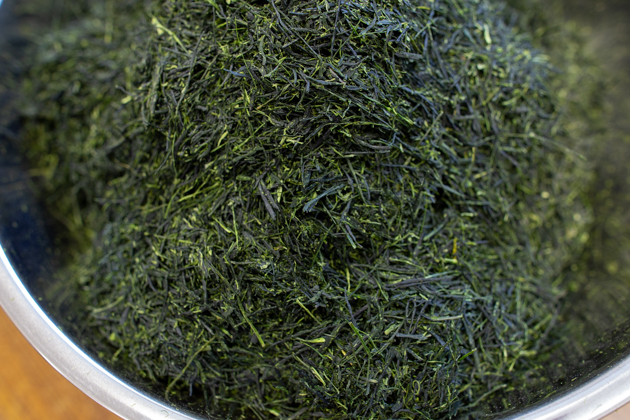 We have released a special Gyokuro, which are made from purely 100% Yabukita varieties. This tea is produced in Fujieda City, Shizuoka Prefecture. It is also called as Asahina Gyokuro.
Gyokuro Yabukita – Asahina Gyokuro
Gyokuro Yabukita is an Asahina gyokuro made from a tea plantation located on the slope along the Asahina River in Okabe-cho, Fujieda City, Shizuoka Prefecture.
Tea takes in carbon dioxide during the day and photosynthesizes it to produce energy. At night, on the contrary, it absorbs oxygen and consumes it. Those who have been to river at night may know that the temperature along the river drops sharply at night. In areas tea grows extremely slow. For this reason, tea gardens along the river often produce good quality tea, and Asahina Gyokuro is no exception.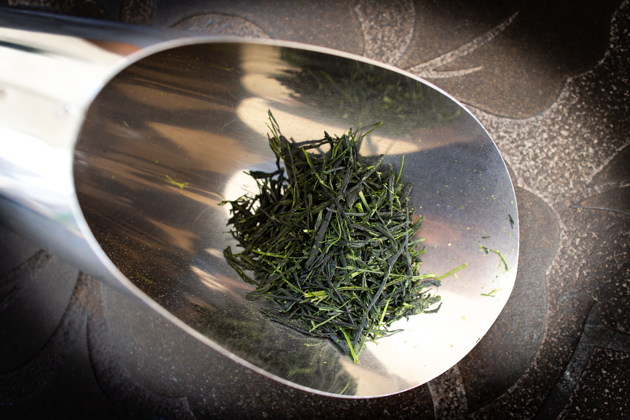 What is Hon Gyokuro
Many people might not aware that Gyokuro is not a type of tea tree or cultivar. Gyokuro refers to tea produced from tea garden which is covered with black sheets or straw, and tea trees are grown under the shade. Because of the shaded growing environment, tea leaves produce a large amount of chlorophyll in order to conduct more efficient photosynthesis. So, due to this reason, tea grown under the shade has thick green colour is its unique characteristic.
Nowadays, most of gyokuro tea gardens are covered with the black plastic mesh sheets.
On the other hand, only a scarce number of tea gardens that uses rice straw to covers the tea garden. This kind of Gyokuro is called Hon Gyokuro. Nowadays, this is very rare in Asahina area and also in both Uji and Yame area. With straw covered over of the tea trees, the rain water rinses out minerals of the straw and drips onto the ground. So, tea trees absorb minerals from straw and it makes Gyokuro very thick in aftertaste.
Not to be surprised, the quality of tea is strongly affected by the quality of the straw, so the farmer has to pay attention not only on the tea garden but also on rice farming.
By the way, "Hon" means Authentic in Japanese.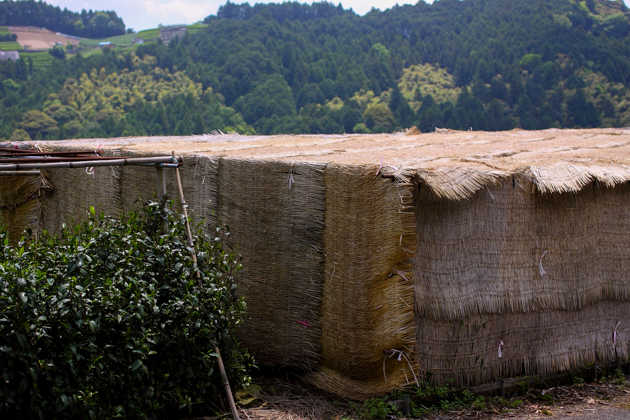 The top photo shows the Hon Gyokuro tea garden, and the photo at bottom is the conventional Gyokuro tea garden that is often seen in recent years.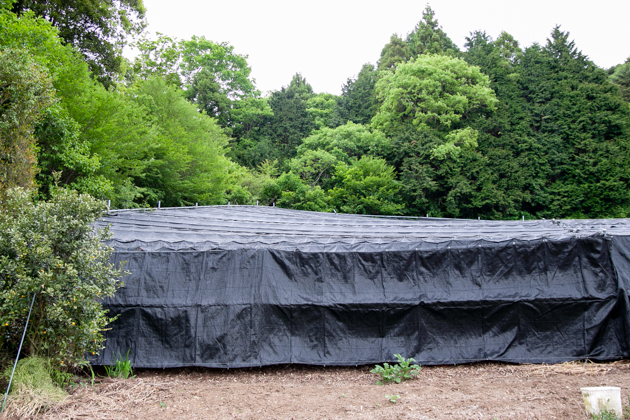 Gyokuro made from the single cultivar
Usually, Gyokuro is made of a blend of a few different types of cultivars. Each tea manufacturer has their own recipe. They blend a few cultivars in order to develop the ideal flavour and taste.
On the other hand, this Gyokuro Yabukita is a single cultivar of Gyokuro made from 100% Yabukita cultivar. With 100% pure Yabukita cultivar, the identical cup characteristic of this tea is a long-lasting finishing and thick aftertaste.
Normally, many people always commented that the flavour of Gyokuro reminiscent to seaweed. Nevertheless, this Yabukita Gyokuro does not have much seaweed flavour. It gives a refreshing floral scent, like ultimate fine sencha, and this is exactly the type of refreshing taste and flavour that we sought after, as it is not very common in general Gyokuro.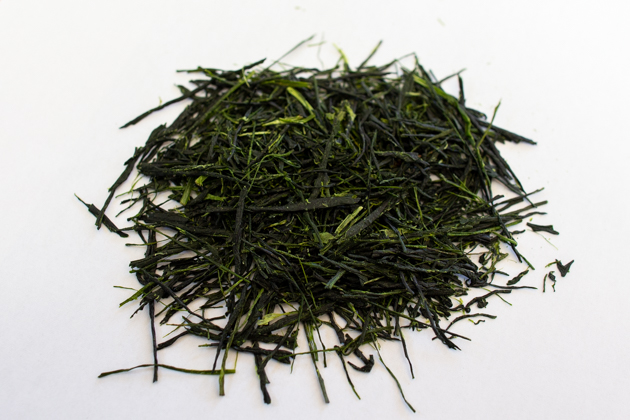 Boiling Gyokuro at high temperature
If you look at books and online information to learn how to brew Gyokuro, most of information suggest you to cool down the boiling water to about 50-60°C, and then slowly infuse the tea for several minutes. The purpose of this brewing method is to extract theanine, which is an umami ingredient, while suppressing the extraction of polyphenols and caffeine. Gyokuro brewed in this way taste like soup stock, it gives plenty of umami. I do not deny this brewing method, but personally, I think that the taste of gyokuro, if it is full of umami, this taste is a little heavy to enjoy it every day.
Therefore, I would like to propose a method of brewing Gyokuro with boiling water. I use high temperature in order to efficiently extract polyphenols and flavour components. As a result, it gives a refreshing taste, and you can enjoy a sweet and milky scent with a floral undertone. Its floral scent reminiscent of high-quality Taiwanese Jin Xuan oolong tea, a typical characteristic of tea from high-altitude tea gardens. You may wonder if the taste is bitter if to brew Gyokuro with boiling water? Please try it. It's surprisingly not bitter.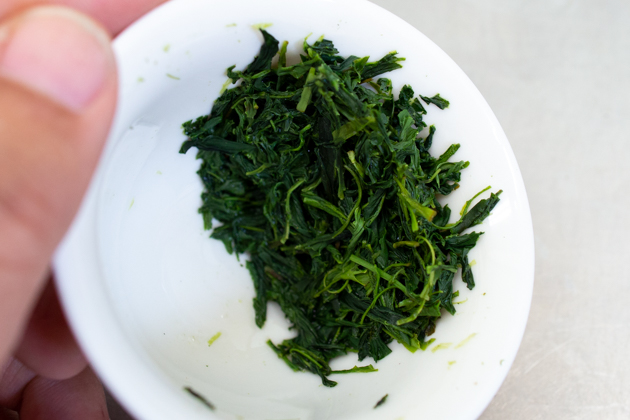 The brewing technique at high temperature in a short time
1. Preheat the Kyusu (tea pot) with boiling water for 10 seconds
2. Add 3g-5g of tea leaves
3. Preheat the tea leaves – pour in boiling water and pour it out. This is just to warm up the tea leaves and get it ready for the brewing
4. 1st Brewing: Pour in boiling water, and infuse tea for 5-10 seconds
5. 2nd Brewing: Pour in boiling water, and infuse tea for a few seconds
6. 3rd Brewing: Pour in boiling water, and infuse tea for a few seconds
You can combine the 1st to 3rd round of brewed tea in a pitcher in order to even out the concentration.
You can omit the preheating of No. 3 step until you get used to it. However, in that case, you can brew the first brew for 10 seconds. If tea is preheated, brewing it for 5 seconds is sufficient.
Ideally, the size of the pitcher should be 3 times of the volume of the teapot so that three brews can be gather in the pitcher.
A simpler method of brewing with a large Teapot (about 300 ml)
1.Preheat the Kyusu (tea pot) with boiling water for 10 seconds
2.Put about 3 to 5g of tea leaves
3.For 1st brewing: brew for 40 to 60 seconds in boiling water (Adjust the brewing time and concentration according to your taste and the size of the tea pot.)
4. For 2nd brewing onwards: pour in boiling water and brew for less than a few seconds
Related Articles
How to get the latest update on HOJO?
1. Follow Twitter, 2. Click "Like" on Facebook, and 3. Subscribe in newsletter. You can have the latest tea news from HOJO.
Subscribe the Newsletter to enjoy the privileges

You may receive a free sample upon purchase, or you may have the priority to purchase special products. So please remember to subscribe our newsletter as well as the social network.
HOJO TEA Online Shop NEWS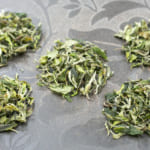 The ancient white tea is a very popular tea in our store. We produced this tea in spring. Following production …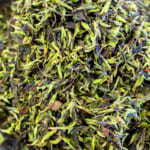 We have released the 2023 harvest of wild white tea from the Da Xue Shan. Fresh Green Colour of Leaves Achieve …
Category
Profile

AKIRA HOJO

I invite you to experience my tea selections.I was born in Nagano, Japan. In university, I studied agricultural chemistry, and I have the master degree in food science. I worked in Japanese food industry for 10 years. I involved in R&D, QC and QA. As a factory manager, I implemented ISO9000 series and managed the factory.
Media Release


We posted the article on "The Art of Tea Magazine No.9, the magazine is published in Taiwan. We featured …

The Malaysian National Newspaper, New Straits Times featured HOJO Tea on 17-Oct-2007.
Shop Info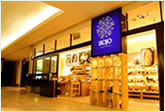 Address:Lot No. T-215, 3rd Floor, The Gardens Mall, Mid Valley City, Lingkaran Syed Putra, 59200 Kuala Lumpur
Tel: +603-2287-4537
Business Hour: 10am to 10pm