HOME >
New Arrival at HOJO Online Shop
Single Tree Raw Pu-erh Tea Made From Pine Forest Ancient Tea
[2021.08.09] Posted By Akira Hojo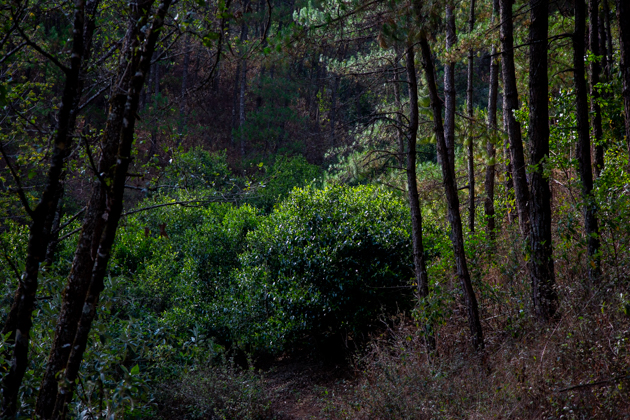 We have released Pine Forest Single Tree Raw Pu-erh 2019. This tea was made from the fresh tea leaves collected from very old tea trees grown under the shade of the pine forest. The tea trees are more than 300 years old.
It is a good chance for you to experience the distinctive characteristic of the shade tea.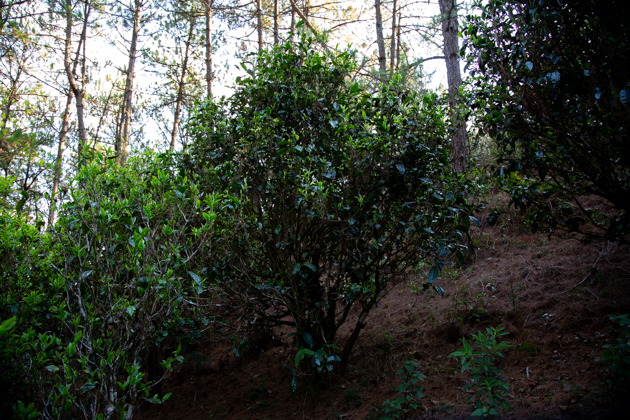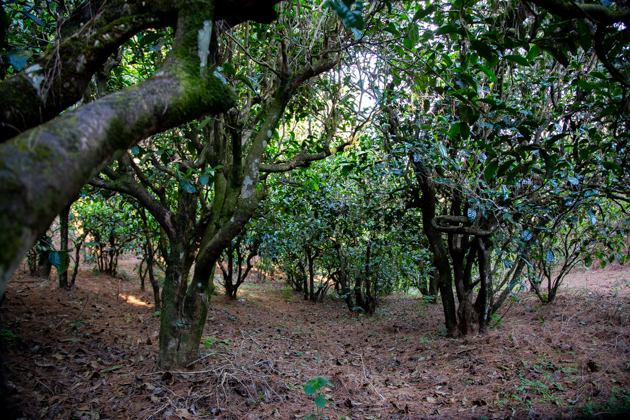 The distinctive flavor and taste of shade tea
It is very rare to obtain the raw pu-erh tea that is processed only from the shade tea. If we were not there and participated in the production of raw pu-erh tea, the teas collected from the shade place and bright place will be mixed and processed into one batch of tea. It's definitely not a common practice that the locals segregate the teas from different areas. Usually, the tea are a mixture of tea leaves collected from multiple tea tree at shade and bright place.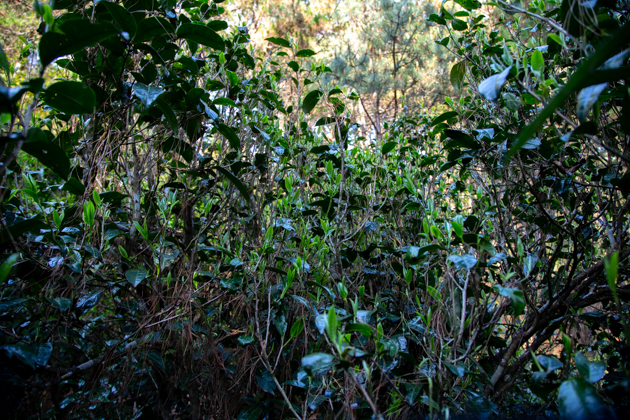 The taste of tea from the sunny location is bright, clear and refreshing. On the other hand, the tea from the shade location has deeper aftertaste, more long-lasting aftertaste, with translucent and creamy taste, and vegetal flavor. When refer to Wuyi rock tea (Wuyi Yan Cha), the characteristics of the shade tea is preferred. Thus, the shade tea garden has higher reputation and its price tends to be higher. Many people may associate shade tea with Gyokuro, the King of Japanese green tea, which usually has an intense seaweed-like flavor. Interestingly, the flavor of raw pu-erh processed from the shade tea is different. It is floral and also refreshing like the bark of young tea tree. After aging for two years in Malaysia, tea has developed sweeter herbal-like flavor with a dried fruity note.
Of course, I am not saying shade tea is more superior. Both the shade tea and sunny tea has distinctive characteristics. We couldn't judge which tea is better since the cup characteristics are different.

The ancient tea garden surrounded by pine forest
This Pine Forest raw pu-erh tea fulfilled the following criteria as an outstanding quality tea:
1. This ancient tea garden is located at 2100m high mountain at the south west of Lincang, Yunnan.
2. The age of tea tree is more than 300 years old.
3. No fertilizer is used, and no pruning of tea tree. Tea grows very slowly and it accumulates rich content of tea substances and minerals.
4. The tea garden is located on the slope surrounded by pine forest. The garden is under the shade for all day and it has created a unique cup characteristic of this tea.
There is a thick layer of pine leaves compose on the ground, it is also contributing to supply tea tree with additional natural minerals.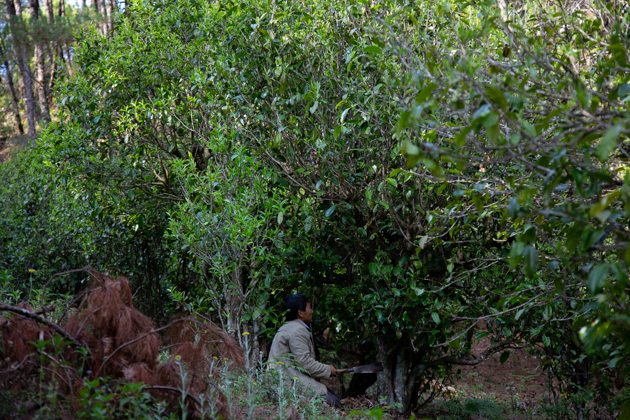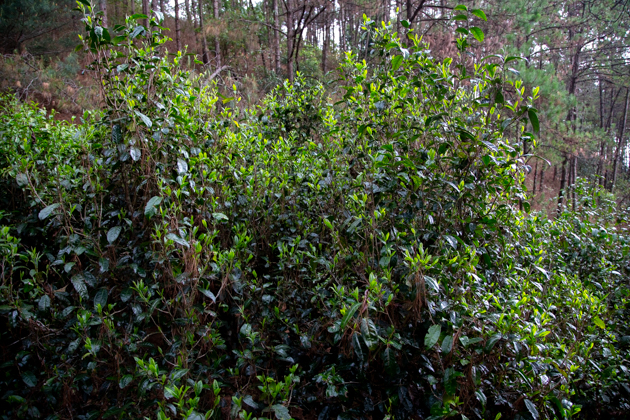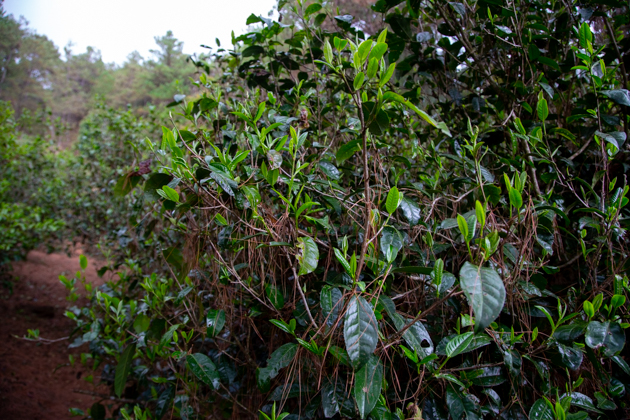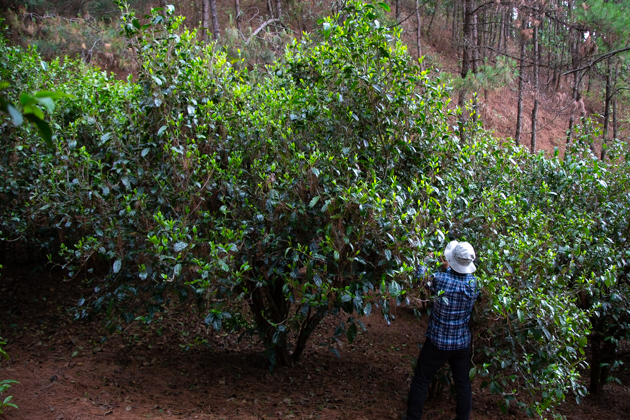 2019 was a good year thanks to less rain
In 2019, there was very less rain until the end of May. This situation was very rare. Due to less rain, the tea grew very slowly and eventually the quality of tea was outstanding. We stayed in Yunnan for two months to work on the production of pu-erh tea. Together with the tea producer, we spent a lot of time to rectify each parameter in the process, and we were able to produce tea in an ideal manner. We controlled the temperature of pan-frying process so as to minimize the heat damage on tea leaf. It retained most of the flavor substances of tea, and the taste of tea is very rich.
We wanted to release this tea much earlier. But we have kept it for the last since it is so good tea. Thanks to the aging, tea has matured well and started to develop sweet fruity note.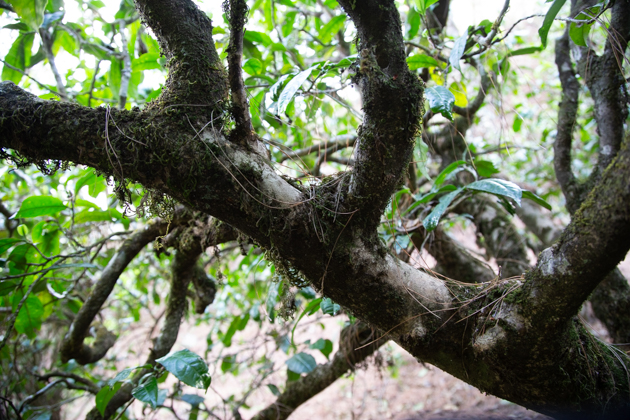 We rented the tea garden
Generally in Yunnan, tea buyer knows where to find the ancient tea tree. So, those famous tea gardens are very popular. Usually, the farmer of the ancient tea garden does not even have to bring their tea to the buyer's place, but the buyer will all the way come to the garden and buy their tea on the spot. This pine forest ancient tea garden consists of particularly old tea trees and therefore it was very popular too. In 2018, many tea buyers were competing to get the tea from this ancient tea garden, and we only could manage to purchase as little as a few kilograms.
Since we wanted to get more tea from the pine forest ancient tea garden, we decided to rent it under the name of our tea manufacturer.
As the custom in Yunnan, we still have to pay for the cost of fresh tea leaf and the tea plucking fee even if we pay rental fee. So, the renting fee can be an extra income for the owner of tea garden.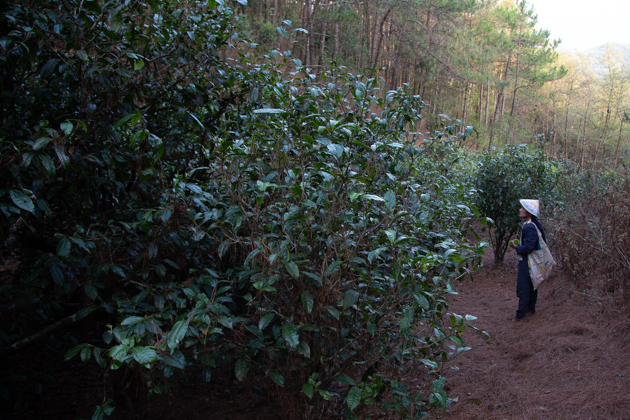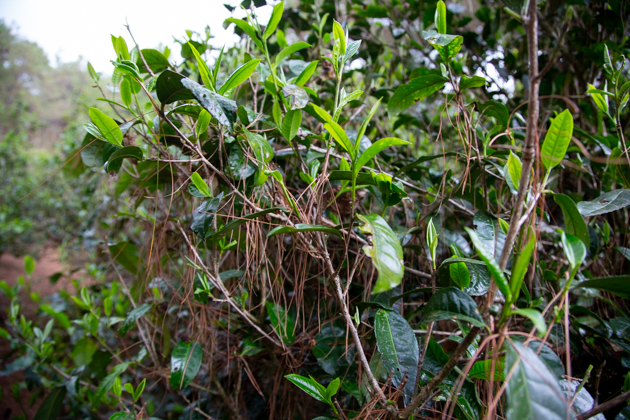 About Single Tree Tea
The single tree is called Dan Zhu tea in Chinese. It refers to the tea processed only from one single tea tree.
In Yunnan, usually tea farmer may select the oldest tea tree they have and process the tea into a single tree tea, and they do not mix it with tea collected from multiple number of tea trees.
However, not all family owns the old tea trees that age is above 100 years old. So, it is quite common that single tree tea is made from tea collected from younger tea trees.
Besides, sometimes farmer gives a lot of fertilizer to the tea trees to boost the production quantity, especially the older tea trees are often well-taken care as it commands a higher selling price in tea market. If fertilizer is given to the tea tree, the tea taste becomes flat and thin regardless of the age of tea tree. It is not necessary that single tree tea is always good quality.
For making outstanding quality tea, tea tree has to be grown at higher altitude, and most importantly, tea must not be given any fertilizer in addition to the age of tree. The value of the old tea tree is that it grows slowly, so the cells of tea leaf are smaller, with higher density and very rich in natural tea substances like poly phenols. Tea has much deeper aftertaste and rich taste. If fertilizer is used, tea tree grows faster and it will spoil its quality value.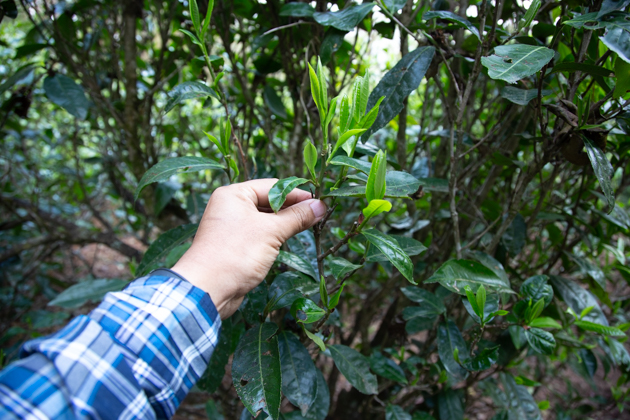 We have made several single tree teas; each small lot of tea is produced from the fresh tea leaf collected from one single tea tree. For each tree, usually they can process 5-6kg of tea if they collect all spring tea leaves from that tea tree. But tea pluckers only able to collect the tea leaves they could reach by hand, therefore we have only a few kg for each tree.
Please let us know as soon as you can since our stock is very limited.
Price is as follow
When you book 200g of tea, you will get teas from two different trees. Likewise, 600g consists of six different trees, then you will be able to experience as many as ten different Single Tree teas.
The combination of different tea trees is random. We are sorry but we are unable to open for selection from customer. Please let us arrange for the selection. If you happen to order more than 1000g, some of the tea trees might be repeated. If you are interested, please send us an e-mail or Facebook message.
100g Cake : SOLD OUT
200g ( 100g cake x 2 ): SOLD OUT
600g ( 100g cake x 6 ) : SOLD OUT
Our stock in Japan was sold out. We still have stock in Malaysia. If you are interested in this tea, we will ship it out from Malaysia.
Online shopping site is available for Malaysia, Singapore and Brunei. Please visit the link below.
Pine Forest Ancient Garden – Single Tree Raw Pu-erh
Related Articles
How to get the latest update on HOJO?
1. Follow Twitter, 2. Click "Like" on Facebook, and 3. Subscribe in newsletter. You can have the latest tea news from HOJO.
Subscribe the Newsletter to enjoy the privileges

You may receive a free sample upon purchase, or you may have the priority to purchase special products. So please remember to subscribe our newsletter as well as the social network.
HOJO TEA Online Shop NEWS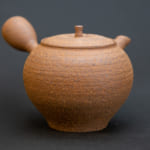 We have received new stock from Watanabe Tozo and Tachi Masaki. We received the following models. 1. Akitsu Mu …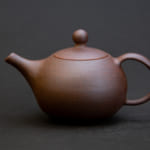 We have released 4 different types of teapot made by Watanabe Tozo as follow. https://hojotea.com/item_e/avail …
Category
Profile

AKIRA HOJO

I invite you to experience my tea selections.I was born in Nagano, Japan. In university, I studied agricultural chemistry, and I have the master degree in food science. I worked in Japanese food industry for 10 years. I involved in R&D, QC and QA. As a factory manager, I implemented ISO9000 series and managed the factory.
Media Release


We posted the article on "The Art of Tea Magazine No.9, the magazine is published in Taiwan. We featured …

The Malaysian National Newspaper, New Straits Times featured HOJO Tea on 17-Oct-2007.
Shop Info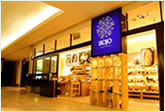 Address:Lot No. T-215, 3rd Floor, The Gardens Mall, Mid Valley City, Lingkaran Syed Putra, 59200 Kuala Lumpur
Tel: +603-2287-4537
Business Hour: 10am to 10pm