HOME >
Teapot and Tea Equipment
Not every clay teapot could get along with Tetsubin/Cast Iron Kettle
[2013.04.22] Posted By Akira Hojo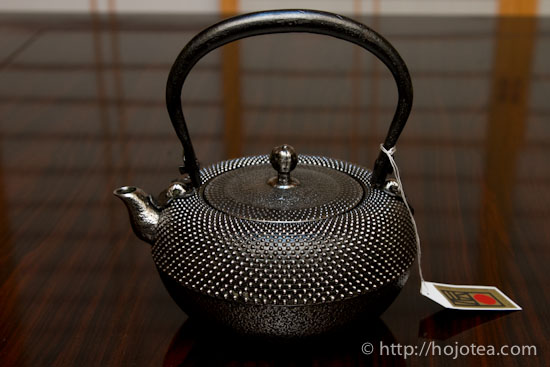 Tetsubin produced from different brands are casted from different metal combinations
Tetsubin, literally means "iron kettle" in Japanese. However it is not necessary built from 100% of iron. In Japan, every cast iron maker has their own formula to blend the iron with other minerals. As a result, the taste differs significantly from one brand to another. You may be surprise that there are some Tetsubins that could not even make water taste softer.
Love or hate relationship between tetsubin and clay teapot
Based on years of experience handling various brands of testubin and clay teapots, I would say that nearly 50% of clay teapots might not be able to get along with your tetsubin. It is important to understand the compatibility and affinity between your testubin and the clay teapot you choose to use.
I am introducing fine quality testubins made from Kunzan and Suzuki Morihisa through my KL shop and online shop. Tetsubin from these two brands perform very well even if you just use ordinary glass, porcelain or bone china tea ware to brew tea. You will need to carefully examine the compatibility between clay ware and testubin if you wish to brew tea in a clay teapot. In general, Suzuki Morihisa can get along with clay teapots baked from oxidation firing process, while Kunzan is more suitable for clay teapots baked from reduction firing process.
For example
Kunzan works well with these following clays.
Banko(purple), Mumyoi reduction(black), Nosaka reduction(black)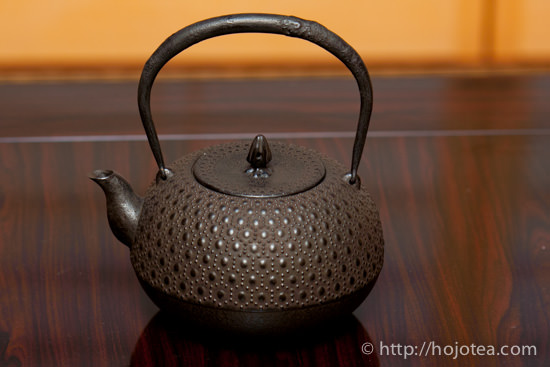 Suzuki Morihisa works well with these following clays
Mumyoi oxidation(red), Nosaka oxidation(red), Shigaraki clay and Tokoname oxidation(red)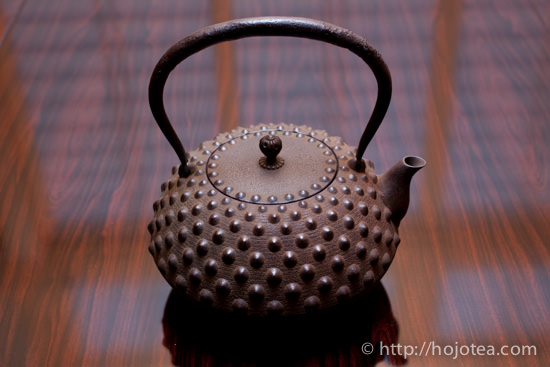 Certain type of tea does not stand out with water boiled from tetsubin
Most tea can get along with water boiled from a testubin. In fact, it enhances the flavor and aftertaste of the tea. But there are a few exceptions. In particular, tea such as Anxi Tie Guan Yin, Wuyi Oolong and Phoenix Dan Cong Oolong.
These teas generally contain very distinctive types of natural mineral compounds, they don't necessarily get along with various types of clay teapots. For example, all these three kinds of tea cannot get along with Banko clay, Shigaraki clay and Watanabe Tozo's Mumyoi clay.
However, I have confirmed through tasting test, that both Kunzan and Suzuki Morihisa works very well for Anxi Tie Guan Yin, Wuyi Oolong and Phoenix Dan Cong Oolong. If you wish to use a different brand of tetsubin to brew these teas, you will need to do a tasting test before you start using it.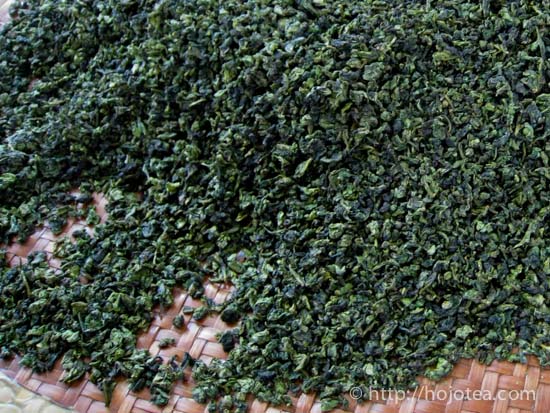 To make the perfect cup of tea, it is essential to have a right combination of tea leaves, water, kettle, teapot and tea cup. A harmonious system of compatible teawares, water and tea will enable you to enjoy the pleasure of drinking a fine cup of tea.
Related Articles
How to get the latest update on HOJO?
1. Follow Twitter, 2. Click "Like" on Facebook, and 3. Subscribe in newsletter. You can have the latest tea news from HOJO.
Subscribe the Newsletter to enjoy the privileges

You may receive a free sample upon purchase, or you may have the priority to purchase special products. So please remember to subscribe our newsletter as well as the social network.
HOJO TEA Online Shop NEWS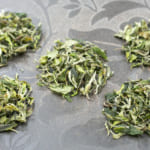 The ancient white tea is a very popular tea in our store. We produced this tea in spring. Following production …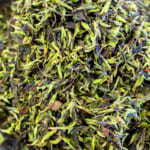 We have released the 2023 harvest of wild white tea from the Da Xue Shan. Fresh Green Colour of Leaves Achieve …
Category
Profile

AKIRA HOJO

I invite you to experience my tea selections.I was born in Nagano, Japan. In university, I studied agricultural chemistry, and I have the master degree in food science. I worked in Japanese food industry for 10 years. I involved in R&D, QC and QA. As a factory manager, I implemented ISO9000 series and managed the factory.
Media Release


We posted the article on "The Art of Tea Magazine No.9, the magazine is published in Taiwan. We featured …

The Malaysian National Newspaper, New Straits Times featured HOJO Tea on 17-Oct-2007.
Shop Info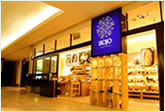 Address:Lot No. T-215, 3rd Floor, The Gardens Mall, Mid Valley City, Lingkaran Syed Putra, 59200 Kuala Lumpur
Tel: +603-2287-4537
Business Hour: 10am to 10pm