The Bee God Tree in Mang Jing
[2013.05.20] Posted By Akira Hojo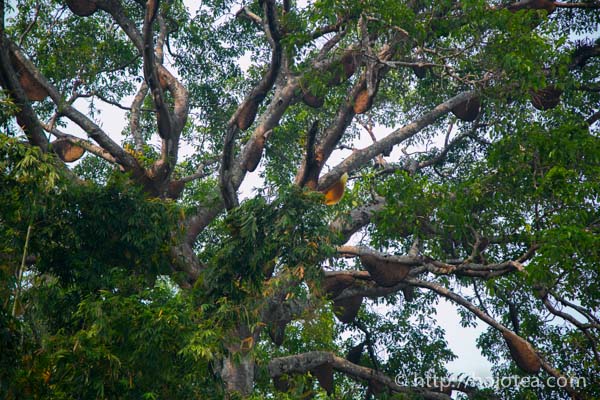 I had the opportunity to enjoy the sight of nature's great creation in Mang Jing which is a small village located near the borders to Myanmar and about 2-3 hours from Meng Hai. On that special day, I followed a farmer's family to learn their way of tea plucking and tea processing. They told us that there was a very big tree with many bee nests in it and emphasized that we should not miss it.
A number of bee nests hanging on the gigantic tree
From the village center, it took us about 10-20 minutes on foot to reach the destination. There is a huge tree located in the middle of the ancient tea tree garden called the "Bee God Tree" (蜂神树). Frankly, the sight was beyond the reach of my imaginations. The tree was humongous and extremely tall as if it was connected to the sky. Furthermore, the number of bee nests attached to the branches was indescribably overwhelming. According to the villagers, the bees only stay up on the tree for about 5 months every year where they would fly in on February and then fly away on May when raining season starts. Strangely, those bees only build their nests on that specific tree despite the many other trees present there. Since the bees stayed precisely during the tea plucking season, they sometimes tend to attack farmers who were plucking tea. A week before my arrival, there were families who were attacked by the bees when they were plucking tea near by the Bee God Tree.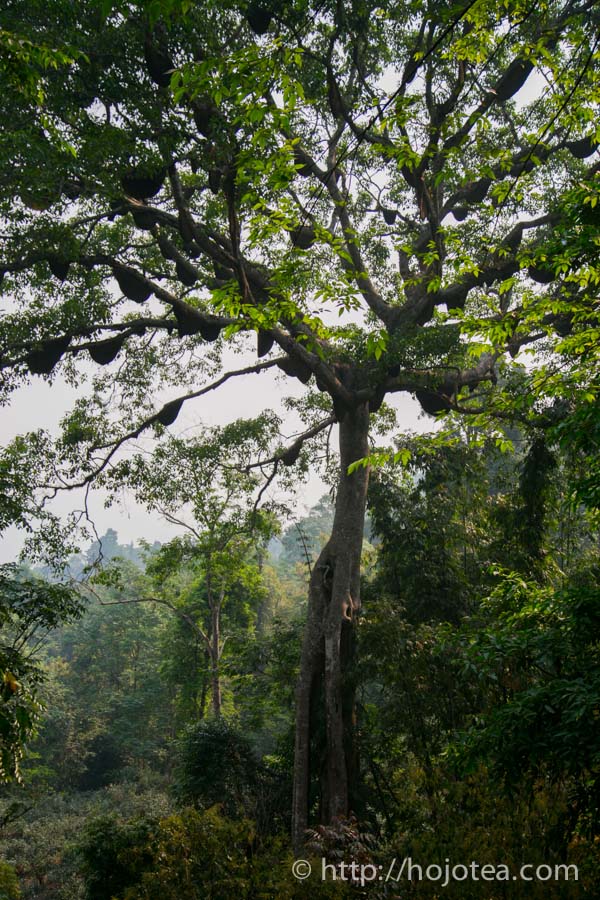 The bee sound that I could not hear
A friend who came along with me kept telling me that he could hear the humming sound of those bees. He mentioned that the sound was so powerful that he could feel it through his body. Honestly, I could hardly hear any humming at all. From my humble point of view, I believe that an individual's ability to detect a specific type of frequency of sound is similar to that of the capability to taste tea.
Related Articles
How to get the latest update on HOJO?
1. Follow Twitter, 2. Click "Like" on Facebook, and 3. Subscribe in newsletter. You can have the latest tea news from HOJO.
Subscribe the Newsletter to enjoy the privileges

You may receive a free sample upon purchase, or you may have the priority to purchase special products. So please remember to subscribe our newsletter as well as the social network.
HOJO TEA Online Shop NEWS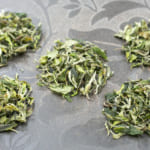 The ancient white tea is a very popular tea in our store. We produced this tea in spring. Following production …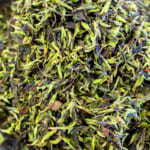 We have released the 2023 harvest of wild white tea from the Da Xue Shan. Fresh Green Colour of Leaves Achieve …
Category
Profile

AKIRA HOJO

I invite you to experience my tea selections.I was born in Nagano, Japan. In university, I studied agricultural chemistry, and I have the master degree in food science. I worked in Japanese food industry for 10 years. I involved in R&D, QC and QA. As a factory manager, I implemented ISO9000 series and managed the factory.
Media Release


We posted the article on "The Art of Tea Magazine No.9, the magazine is published in Taiwan. We featured …

The Malaysian National Newspaper, New Straits Times featured HOJO Tea on 17-Oct-2007.
Shop Info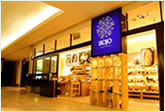 Address:Lot No. T-215, 3rd Floor, The Gardens Mall, Mid Valley City, Lingkaran Syed Putra, 59200 Kuala Lumpur
Tel: +603-2287-4537
Business Hour: 10am to 10pm