HOME >
Teapot and Tea Equipment
The advantage and disadvantage with different type of filter on teapot
[2014.02.10] Posted By Akira Hojo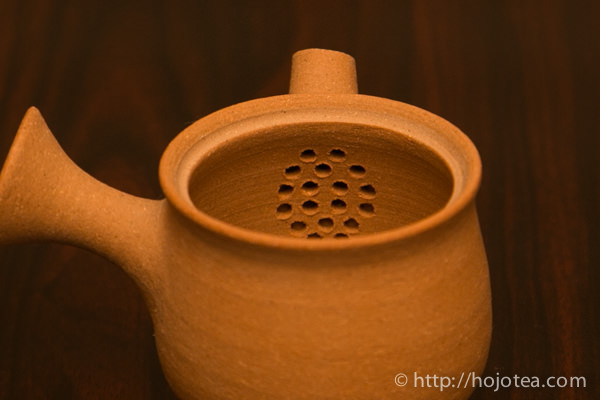 I would like to share some points of teapot selecting based on the type of filter. Generally, there are 4 types of filter commonly used as follow.
Direct hole: The single or multi-number holes directly made on the body
Sasame/Seramesh: Originated by Tokoname potters. Tiny holes were made on one piece of clay, and then attached to the body.
Ball or Bulbous shape filter with multi-holes
Stainless steel mesh filter
Direct hole filter
The filter holes were made directly on the inner body of the teapot. As the filter is part of the teapot, the artists have to maintain very high concentration while shaping the filter holes. Furthermore, if any mistake is made to the filter hole, the entire teapot will be ruined. Mainly, Japanese and China teapots (Yixing) of a much more sophisticated molding uses this filter design due to its efficacy in drainage. With this design, we are able to completely drain the tea to its last drop. On the contrary, a tea that consists of finer leaves tends to get stuck onto the filter. For instance, this filter is not practical for brewing the Fukamushi sencha (deep steamed sencha), although it is usable for most sencha. Among this design of filters, I would prefer the model that comes with more number of holes.
Sasame/Seramesh filter
Originally, this filter design was developed in Tokoname City. This filter is of a flat and wide shape together with numerous tiny holes on its surface. Despite the filter is made of clay, it is practical to brew tea of mostly tiny leaves like the Fukamushi sencha. Contrarily, this design tends to retain some water as it has less drainage efficiency compared to other types of filter.
Ball/Bulbous shape filter
The ball shape filter has the features of both the direct hole filter and seramesh/sasame, but it's drainage attribute is better than the sasame filter and it's chance of leaves chocking in the filter (direct hole design) is reduced. However, if you brew the Fukamushi sencha with leaves that are too dusty, it may sometimes get chocked.
Stainless steel mesh filter
The filter is made of a stainless steel mesh that varies in shape. Regardless of the shape, however, this filter performs excellently as any tea is suitable. The water flow is fast enough even for tea with lots of tiny leaves. Though, quite a number of people may think that the stainless steel mesh spoils the taste of tea, nonetheless, the water kettle, water treatment system, tap and many other materials which are made of stainless steel have already contributed to the effect on water even before getting in contact with the teapot. Based on my tasting experience, there is no negative impact with the stainless steel tea strainer. Usually, the stainless steel strainer is used for non-handmade teapots.
As a conclusion, it is important to understand the advantages and disadvantages of each design of the filter. You may also select a different type of filter based on the type of tea you intend to brew.
Related Articles
How to get the latest update on HOJO?
1. Follow Twitter, 2. Click "Like" on Facebook, and 3. Subscribe in newsletter. You can have the latest tea news from HOJO.
Subscribe the Newsletter to enjoy the privileges

You may receive a free sample upon purchase, or you may have the priority to purchase special products. So please remember to subscribe our newsletter as well as the social network.
HOJO TEA Online Shop NEWS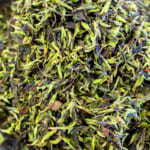 We have released the 2023 harvest of wild white tea from the Da Xue Shan. Fresh Green Colour of Leaves Achieve …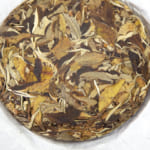 In 2018, we introduced the Wu Liang Shan Ancient Tree White Tea. It became an instant hit, selling out quickly …
Category
Profile

AKIRA HOJO

I invite you to experience my tea selections.I was born in Nagano, Japan. In university, I studied agricultural chemistry, and I have the master degree in food science. I worked in Japanese food industry for 10 years. I involved in R&D, QC and QA. As a factory manager, I implemented ISO9000 series and managed the factory.
Media Release


We posted the article on "The Art of Tea Magazine No.9, the magazine is published in Taiwan. We featured …

The Malaysian National Newspaper, New Straits Times featured HOJO Tea on 17-Oct-2007.
Shop Info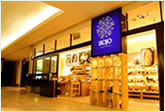 Address:Lot No. T-215, 3rd Floor, The Gardens Mall, Mid Valley City, Lingkaran Syed Putra, 59200 Kuala Lumpur
Tel: +603-2287-4537
Business Hour: 10am to 10pm