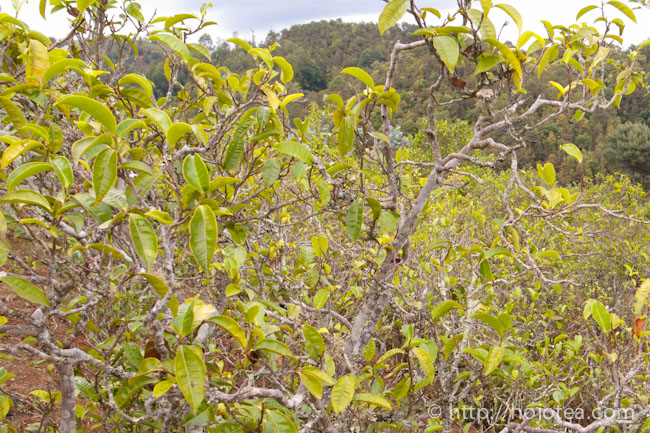 Have you ever heard the golden tea leaf? It is referring to the tea leaves in very yellow color, it looks like the rice field just before harvest. The tea leaves turn into yellow color due to it lacks nitrogen. This happens when the tea is grown with the natural farming method (without fertilizer) in the red or yellow soil. The colour of tealeaf is very close to the colour of ripen banana skin. These teas could grow very strong even if human does nothing. Under the balance ecology system, it grows very well and it does not require any fertilizer and pesticide. When we observe these tea gardens, we will notice a lot of organisms, including insects. Nevertheless, tea tree has a strong resistance to insects and keeps very healthy condition. It grows very slowly. Compare to ordinary tea that is grown with lots of attention, this naturally grown tea spent much longer time in growing. As a result, the plant produces very tiny cells but in very large quantity. Even though the growing speed is slow and the leaves very yellow in colour, it is very rich in polyphenols and minerals, and that gives full body, deep after taste and very soft texture. These are the factors that could satisfy our palate; that's why it is known as the golden tea leaf.
On the other hand, the modern agriculture uses plenty of nitrogen-based fertilizer. With nitrogen fertilizer, tea grows very fast and stops producing the functional substance such as polyphenols. The leaf grows very big, becomes dark green in colour with strong vein, and the surface of leaf becomes glossy due to the wax. The fertilizers make tea grows much faster and the leaf needs to carry out effective photosynthesis. This is why modern agriculture produces tea with big leaves that contain huge quantity of chlorophylls. Apparently, these leaves look very gorgeous, yet it gives very flat and light taste.
Modern agriculture + Fertilizer

Big and dark green leaf. No grasses on the ground.

Modern agriculture + Fertilizer

Tea contains a lot of amino acid. It grows very huge, yet it is very fragile.

Natural Farming

It does not look like tea; but like the wild plants. The leaf is very small and in yellowish green colour.

Natural Farming

You may be surprised that these teas and the above green leaf are the same cultivar.
If you look at the surrounding natural environment, you may realize that the natural plants are yellowish green colour, unless the plants grown under the shade or nearby the agricultural land or plants that are cut by grass cutter, the leaves of these plants are normally darker green in colour. Just like we enjoy the taste of natural herbs or wild mushroom, we appreciate tea that is grown just like the wild plant and live as part of the ecology. Every year, we go to Yunnan and look for tea with yellow leaves.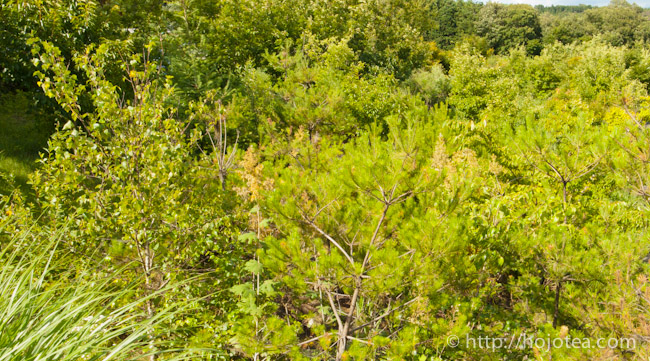 The natural plants grown under the sunshine are yellowish green colour.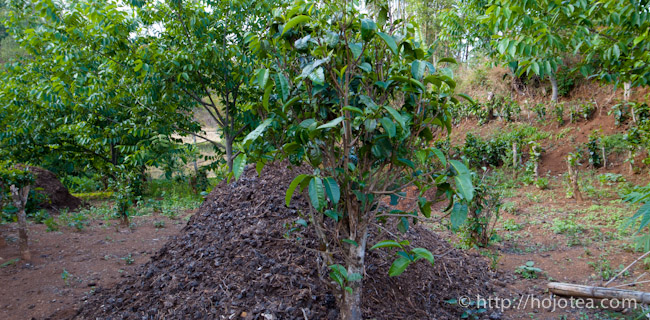 Right next to the place where animal-based fertilizer is applied, I noticed that particular tea tree has big leaves. Although it is the organic fertilizer, tea grows very fast and leaves become so green.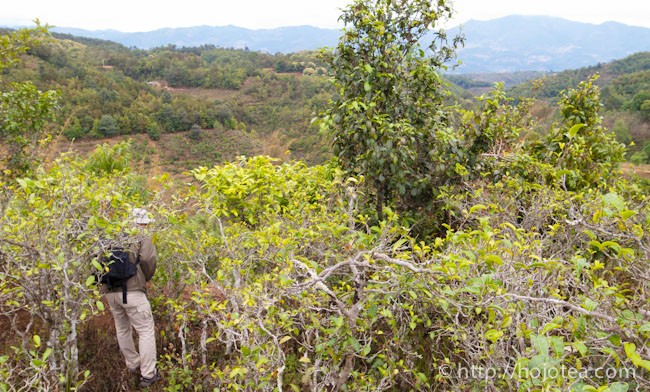 The tea tree in the center has very green ad big leaves. This tree was old enough and it is always sought after by many tea merchants in commercial tea market. Thus, farmer felt they can obtain high returns on this tea tree. They applied fertilizer and took good care of the tree. As a result, it grows very fast and produces very big and green leaves.
We mainly focus in tea from Lincang, and we seldom buy tea from Xishuang-banna
The three main production areas of pu-erh tea is Xishuang-banna, Lin Cang and Pu-erh. In these three places, Xishuang-banna is the most famous.
Xishuang-banna has historically famous place, such as Yiwu, Bu Lang Shan or Lao Ban Zhang. In the past few years, it took us more than a day to reach some of the villages. These places were quite isolated and not publicly. Nowadays, the access to these places becomes much easier, thanks to the road construction. In less than three hours, these places can be reached. Many local visitors or even tourists from other provinces often visit these places, since buying tea directly from tea garden is sort of a fun activity. Sometimes, at the minority village located in the mountain of Xishuang-banna, we can even see the BMW or Porsche. Since many people are rushing to obtain tea from these famous places, the tea price keeps rising and yet the quality drastically reduces. When the demand on tea tremendously increases, farmers will find a way to increase the output to fulfil the demand. Thus, they stop traditional farming and start applying a lot of fertilizer in order to increase the output. These situation is really spoiling the quality of tea in the historically the famous production area. For us, we seldom purchase tea in Xishuang-banna. The tea is too expensive for its quality.
HOJO focus in tea from Lin Cang. From my point of view, Ling Cang is a very ideal place for producing quality tea. One of the important reasons is that this place is not well-developed. Some of the villages are at remote location and cannot be reached by car. I prefer those minor places is mainly because of the tea tree is maintained at very natural condition. Since these villages are less popular, farmers pay less attention to the output. They leave the tea tree just like their ancestor's way. The tea plucking is only once a year. Besides, no pesticide and no fertilizer is applied. The only natural fertilizer is given by chicken; only if the tea tree is very lucky, chickens may drop a "gift" as they wander at tea garden. In addition, for the production of high-quality tea, Lin Cang's environmental condition is flawless. First of all, the total rainfall in Lin Cang is very low. It is a very dry area indeed. Most of the land here is very rich in red clay and the altitude of the Lin Cang is very high. Due to these factors, tea in Lin Cang grows very slowly and accumulates a lot of minerals. Once we tasted these teas, it is very uneasy to reverse back to the previous quality. The tea is so soft and smooth. We can tell the difference even if we drink it while pinching our nose.
Why people are so crazy about pu-erh tea?
Honestly speaking, no matter how well the pu-erh tea is made or matured, in terms of flavour, it never is able to compete with the well-made oolong tea. For example, the flavour of Phoenix Dan Cong oolong is marvellous. I often say that oolong tea is appreciated because of its flavour, while pu-erh tea is valued for its taste. Nevertheless, there is oolong tea that gives good taste as well as nice flavour. However, please compare the price of oolong and pu-erh tea. Usually, if oolong tea has both good flavour and taste, the price is sky-high. As for pu-erh, its flavour may not be as great as oolong. But we can often find pu-erh tea that gives extraordinarily nice taste. In this context, nice taste is refers to after taste, soft, smooth, thick and long lasting sweetness. Generally, oolong is produced in Fujian or Guangdong province. These tea regions are more open and better-known. So there is no more "Indiana John's story". Pu-erh tea comes from Yunnan province. The Yunnan province has less exposure to the outside world. Many small villages are scattered in the mountain. Some of them are not even indicated on the Yunnan map. Only if tea buyer knows the specific place, it is possible to find the extraordinarily quality tea at very low price. We still stand a lot of chances to enjoy the fantasy of treasure hunting.
The flavour of pu-erh becomes very attractive, if it is well-kept. It may not be as perfect as some of the fine oolong, but its flavour becomes very fruity and sweet like honey. Usually, tea starts developing the honey flavour in 2-3 years' time and fruitiness appears from 5 years' time onwards. I believe the best timing to drink pu-erh tea is within 5-10 years' time. However, some people like aged tea that has been kept for 20 to 30 years. I think it is personal preference.
The point of selection for tea we purchased in 2012
I would like to explain the point of selection for tea we purchased in 2012. Usually, I buy tea from minority races. They own the old tea trees inherited from their ancestors. Some of the tea trees have been there more than 1000 years. Till today, they practice very traditional farming. If we require good quality tea, it is very essential to purchase it from minority races. With natural farming method, the raw material quality is superb. However, the disadvantage of getting tea from them is their process control is less precise. Normally, the pan-frying of tea is carried out with wood firing. With this method, it is difficult to control the consistent or ideal temperature. Sometimes tea is over-fired. Usually I am taking note of the over-fired flavour and try not to purchase. However, if the tea base quality is extremely high and the price is very reasonable, I will consider to purchase. It is ideal to keep for further maturation. High quality tea is refers to tea is very rich in polyphenols and this is the key element for maturation. Once the tea is well-matured, the over-fired flavour disappears. After ideal maturation, the price of tea will be adjusted. For pu-erh tea, it is common that price is raised in proportion to the maturation period. Since these teas are less expensive, one of the ways is to buy extra quantity and keep for some time. In any case, tea produced from the quality material is nice to enjoy even it is fresh. Although it may give slight over-fired flavour, it is sweet with very smooth drinking feeling.
Here's the list of our pu-erh teas:


1. Tea that is well-made:
Bai Ying Shan Raw Pu-erh 2008
Bai Ying Shan Raw Pu-erh 2012
Da Xue Shan Wild Pu-erh 2010
Du Mu Chun Raw Pu-erh 2012
2. Tea that has slight over-fired flavour caused by wood-firing:
Xian Su Shan Raw Pu-erh 2010
Xiu Lin Wu Hao Raw Pu-erh 2011
Zhong Shan Raw Pu-erh 2012
Xian Su Shan Raw Pu-erh has very marginal extent of effect from the firing process. It is a well-made tea from the extraordinarily good material. It gives full body, long-lasting taste and very smooth texture, with a lingering sweetish taste. In fact, you can enjoy this tea for now, and do not have to wait until the tea is matured.
Next to Da Xue Shan Wild Pu-erh, Xiu Lin Wu Hao Raw Pu-erh gives the strongest after taste among the teas. This tea is so smooth and soft, with flavour like sugar cane and honey. Although it has slightly smoky flavour like scotch, some customers like this tea very much as they love good scotch.
Zhong Shan Raw Pu-erh is also made from very good material. This tea was slightly over-fried. It gives a little baked aroma like bean.

Tea garden and scenary situated near Lin Cang City