The highest quality Keemun produced by Keemun Black Tea Factory

With one sip, we can feel that tea flows down through our throat and gives smooth drinking feeling and soft texture as if we are drinking fine extra virgin olive oil. Our body gets warmer, our face blushes and we feel very relax with a little drunk feeling. This is typical effects when we drink high quality tea, Keemun Special Tribute included.
Do you worry if tea keeps you awake?
Drinking ordinary tea will keep you awake. On the contrary, Keemun Special Tribute makes you sleepy. We feel the same when we drink good wine or spirits. Low quality alcohol gives us nothing but drunk and hang-over, while good drinks never lead such consequences. Drinking Keemun Special Tribute makes us relax. I assumed it is due to improved blood circulation.
We have been introducing "Keemun Black Tea". This tea is well-balanced between its quality and price. On the other hand, Keemun Special Tribute is graded as the top-end quality produced by Keemum tea factory. In the history, Keemum tea factory is the first factory produced Keemun tea. It used to be a state-own factory and their product is regarded as the "standard quality of Keemun tea".
I have visited Keemun tea factory to survey their tea garden as well as tea making process. I have tasted their full range of tea. The normal quality gives typical Keemun flavor and it is a pleasant and enjoyable tea. Keemun Special Tribute is "gift tea" quality and generally it is not available in commercial tea market. Usually it is presented as a gift for national guest. It is often purchased by the CEO from gigantic organization in Anhui province as corporate gift for the key person in the states.
Keemun Special Tribute is a completely different cup of tea from ordinary Keemun Black Tea. First of all, it gives a very thick taste. Thick taste is different from bitter or astringent taste. The thick taste means it lasts for a very long time and its sweetness stays on our throat for a while. For normal Keemun, even though more leaves is used to make a very concentrated brew, its taste becomes either bitter or astringent and it is not thick. For Keemun Special Tribute, you can enjoy this tea with great satisfaction even if you drink this tea while pinching your nose. It is not the aroma that appeals, but the after taste.
| | | |
| --- | --- | --- |
| | | |
| The entrance of Keemun Black Tea Factory | | Tasting Scene |
The Grading of Keemun Tea
This is the standard grading of Keemun tea in Keemun Black Tea Factory. In terms of price, the Special Tribute grade is priced as expensive as more than 50 times of the lowest grade of Keemun tea.
◇ The Standard Grading of Keemun Tea in Keemun Black Tea Factory

1 特贡 (Special Tribute)
2 贡茶 (Tribute Tea)
3 礼茶 (Gift Tea)
4 特茗
5 特级 (Special)
6 一级 (First)
7 二级 (Second)
8 三级 (Third)
(Followed by the broken leaf and so on)
We often come across various style of grading if we browse internet or tea book. In fact, any other type of grading indicates either
1. It is merely set by respective tea merchant
2. It comes from other factories
The following photo was taken during the tasting session in Keemun black tea factory.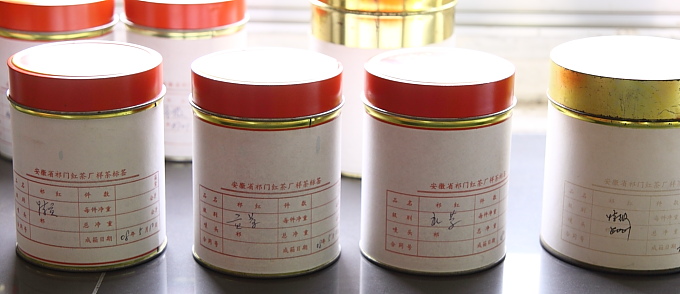 The standard Keemun that HOJO is selling at lower price is equivalent to the 3rd or 4th grade. Usually the price of Keemun tea becomes exponentially higher when the grade increases.

Special Material is chosen for Tribute Grade
In black tea factory, it is a common practice that grading is carried out only after tea is processed. However, special tribute is exceptional case. It has to be produced from specified material that gives better quality. Firstly, tea garden is situated at higher elevation. Secondly, farmer has to put special care to slow down the growing speed of tea. Eventually each tea leaf has more tiny cells with much higher density and it contains a lot of iron. This will contribute to the three dimensional drinking feeling and long-lasting aftertaste.
| | | |
| --- | --- | --- |
| | | |
| Manual Grading | | One of the tea gardens owned by Keemum Black Tea Factory. |