Kasuga Zairai Sencha is produced in Gifu Prefecture, at a place called Kasuga in Ibikawa-town, Ibikawa-Gun. Kasuga used to be an independent village. In 2005, Kasuga village was united with several small villages and becomes Ibikawa-town.
Non-pesticide Village
Kasuga Zairai Sencha is made without any usage of pesticide. Indeed, the entire Kasuga village is not using any pesticide; it's very eco-friendly. In the tea garden, I noticed a lot of flying insects. Please refer to the following photo; it was taken in November 2010, when I visited Kasuga tea garden.
Kasuga tea gives an excellent after taste due to the following reasons:
Age of tea tree
Soil that is rich in minerals, especially iron
Zairai cultivar
Non-pesticide practice of the tea garden.
The farmers in Kasuga village spent a lot of efforst to prepare the natural fertilizer for tea trees. For instance, they went deep inside the mountain to collect grasses and sometimes they gathered straws from the field. Those natural materials are very rich in minerals and thus it contributes in increasing the sweetness and after taste of tea.
Nowadays, due to the aging of society in Kasuga, the number of old tea tree is drastically reduced. Many farmers switched to young tea tree or other cultivar, like Yabukita cultivar. Yabukita cultivar has very shallow roots that spread wider under the ground, while most of Zairai cultivar has much longer roots that penetrate deeper under the ground. From this point of view, I would say that if both Yabukita and Zairai cultivar is produced under the same environment, the quality of Zairai is definitely better in terms of after taste and flavour.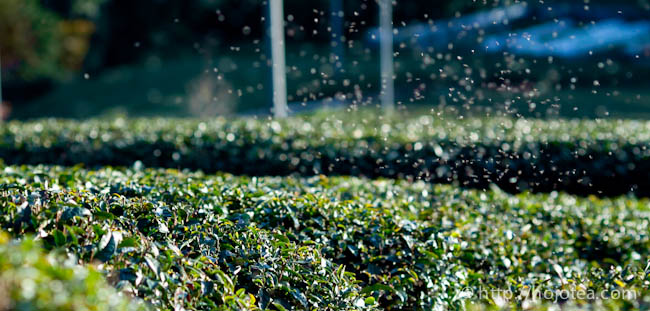 There were a number of insects flying around the tea garden of Kasuga when I visited there on November. The agricultural prctice in tea garden of Kasuga is eco-friendly.
We looked for strong after taste!
Most of the Japanese green tea available in commercial market is produced from garden tea tree at very young age. On the contrary, Kasuga Zairai Sencha is produced from very old tea tree, aged about 200-300 years old. In general, ordinary Japanese green tea gives a very upcoming "umami" taste, while Kasuga Zairai Sencha gives a totally different drinking feeling. This tea gives a very deep after taste and long lasting sweetness. You can enjoy this tea even though you drink while pinching your nose. Its flavour stimulates the palate, and it gives a fresh floral bouquet that lasts for a long time. Furthermore, Kasuga Zairai Sencha has clarity and a fresh pure taste, and is a rare treat when of Japanese green tea. Good tea always rich in taste and complex in flavour. Even though you lost your ability to smell, you still will feel the three dimensional feeling in taste.
Old tea tree exist not only in China, but also in Japan
We sourced Kasuga Zairai Sencha specifically from the old tea tree aged about 200-300 years old. The old tree in Kasuga does not grow as tall as the ancient tea tree in Yunnan or Phoenix Mountain in China. In Kasuga, farmer manages the shape of tree and keeps it just up on the ground. The cultivar of the old tea tree is called Zairai. Zairai means "native" or "conventional" in Japanese language. It is refers to the cultivar that existed in Japan since long time ago. However the name "Zairai" is not really appropriate since tea is not a native plant of Japan. It was brought from China once upon a time. So Zairai is actually means tea that follows the original China tea bush. In fact, Zairai comprises of many traits. A few hundred years ago, tea was grown with seedling method, unlike the modern tea plant which is propagated by cutting method. If you ever visited Zairai tea garden in Kasuga, you may see that there are so many different traits of tea; the appearance of each trait varies a lot in terms of its size, shape, and colour, not to mention its flavour and quality. In a way, it is mixed cultivar that carries some genetic traits of China bush. In fact, many exclusive China teas are also produced from mixed cultivar, such as Long Jing, Junshan Yinzhen, Puerh and even Phoenix Oolong tea. Under the circumstances, there are advantages and disadvantages as follow:
Advantage
Zairai gives very flowery flavour which is similar to oolong cultivar.
The roots of Zairai generally grow vertically deep under the ground and it is very effective in absorbing the minerals.
At present, the age of existing Zairai tea tree is generally very old. Old tree produce longer root that is able to absorb a lot more minerals than modern cultivar.
Disadvantage
Each tea tree has very rich mineral contents and thus it produces tea with very long lasting after taste. However, sometimes the taste of tea is offset when more than two teas are mixed. It happens due to the counter-effect of different minerals.
If tea leaves are not collected from the same combination of tea trees, the outcome is inconsistent in terms of flavour and taste.
Zairai is mixed cultivar. Each tea leaf grows at different speed. Therefore the moisture content of each leaf is not consistent. It causes a lot of difficulties in process and the leaf looks wilder.
In Kasuga, each tree of Zairai cultivar produces pretty high quality leaves. However, if the leaves from the different trees are mixed, sometimes the after taste is reduced and vice versa.
Considering this matter, HOJO gives emphasis to farmer to supply tea from single garden. We have an agreement to purchase the whole quantity of tea produced from single garden. Since we follow the same combination of tree, the quality is more stable.
Above 4 photos are taken in the same tea garden. Zairai means mixed cultivar. There are many different kinds of trait such as leaf size, shape, color and not to mention flavor and quality.
Final Refining and Firing with HOJO's original spec
In Kasuga, traditionally they do not carry out the tea refining process. In Kasuga, tea is sold as "ara-cha"(荒茶), means crude tea. It has slightly higher moisture content, some stalks, and bigger leaves. If the shape and size of tea leaf is overly inconsistent, it gives noise in taste. Instead of directly pack tea with our packaging, we send the crude tea to Shizuoka for refining process. Additional sorting process is carried out to separate the stalks, big leaves and remove any foreign material such as stone, if any. After sorting, the size of tea leaf is re-adjusted, and then very moderate firing is applied to exalt its flavour. With series of cares and watchful judgement on each criterion, we managed to bring in tea with balanced character in terms of flavour and taste. As we are just buying from a single and selected tea garden, this tea is limited.
BEFORE

This is the crude Kasuga green tea which is commonly available in Kasuga for sale. Tea contains a lot of stalks and appreance is not consistent.

AFTER

With our own spec, tea was sorted, cut and lightly fired. The leaf shape and color is consistent.
The twisted quality criteria of Japanese green tea due to the commercial reason.
In Japan, the quality criteria of tea are set by Shizuoka tea market and it was greatly influenced by the Japanese agricultural association. The agricultural association wishes to supply more nitrogen based fertilizer. They emphasize on "umami", and this comes from "thiamin", the typical substance produced when nitrogen based fertilizer is applied before harvesting. "Umami" is known to be the most important quality index of Japanese green tea; nevertheless, tea with very thick umami taste gives very flat and shallow after taste. Based on my experience, fruit or vegetable will not produce a good outcome if nitrogen based fertilizer is applied before harvesting. For example, if nitrogen based fertilizer is applied to vegetable, it taste becomes flat and flavour becomes very thin. If it is applied to apple or grapes, the tree grows very fast due to the nitrogen intake. As a result, fruit becomes very small and the taste is not enjoyable after all. The nitrogen based fertilizer does the same job with tea. It makes tea grow faster and increase the output. Certainly, farmers are happy since they have more volume of tea to sell. Agricultural association also feels happy because they can sell more fertilizer. Due to this close relationship among farmers and agricultural association, until now "umami" remains as the key quality index; even the professor in university is supporting this idea. If one has ever studied the very exclusive tea produced in China or Taiwan, none of the quality tea is produced with nitrogen based fertilizer. The higher the quality, the slower the tea grows. As less number of tea leaf dominate the limited minerals supplied from the root, we enjoy the thickness of the taste. Kasuga tea gives taste just like very high-end Chinese green tea or raw Puerh tea. If we ever taste this kind of Japanese green tea, it is hard to get back to the ordinary tea that just simply gives strong umami.
The Photo Alubumn
Pease click each photo to enlarge.