Water
In you are using tap water, it is necessary to filter the water using an activated carbon filter. If not, you wouldn't be able to enjoy the authentic taste of tea. Chlorine is added to tap water in order to sanitize bacteria. This chlorinated water will also harm our body cells. Concerning about our health condition, it is very important to remove chlorine from drinking water. The most effective method in removing chlorine is to install an activated carbon filter. This type of filter is designed for removing organic substance. It will remove not only chlorine, but also other harmful substance such as contaminated pesticide. The activated carbon filter can be easily obtained from the common hardware shop in most countries. If activated carbon filter is not available, please place a charcoal inside the water and leave it for over night. The material composed of activated carbon filter is made of ground charcoal. The difference is that activated carbon filter contains much finer particles and hence it has extremely large surface area for a better efficiency in filtration. We do not suggest RO water (reversed osmosis water) or distilled water. This water carries no mineral, the taste and flavor of tea tends to be very unstable, unless you have very superior quality tea and tea equipment.
It is also advisable not to use fresh tap water. The intensity of after taste becomes stronger if water is kept overnight. Keeping water with stones or inside clay jar will increase the content of minerals. However, you need to confirm whether or not the water kept inside particular jar or with stone is suitable with your tea or tea equipment (such as teapot). If water jar carries certain minerals like copper or zinc, it will rather spoil the taste and flavor of tea. For this, you need to confirm with experiment on try and error basis.
For boiling water, please do not use aluminum or copper kettle. It spoils the taste of water. We suggest using kettle made of iron, stainless steel, tin or glass.
In the long run, you may observe a thick layer of scale accumulated inside your kettle. Our mother usually taught us to wash and remove it with citric acid. But please do not even try to remove the scale. Scale consists of minerals that exist in the water. The mineral composition is reflected from the water you used. If you remove the scale, the mineral ion balance between scale and water is destroyed. This balance is called buffer effect in science. The flavor and taste will seriously run out and you won't be able to get previous taste and flavor for a long time. It is also important to stick to the same type of water whenever brewing tea. If source of water is changed, it carries different type of minerals. It will affect the mineral ion balance too.

Go to further information about suitable water for brewing tea >>
Brewing Method
The volume of water and quantity of tea leaf
The quantity of tea leaf can be calculated by a formula that "Divide the Volume of Water by 5". For example: the volume of teapot = 200ml; 200ml/50 =4g. You need to measure 4g of tea leaves for 200ml of water. As opposite to the traditional brewing method, the modern style uses more volume of water. A teapot with the size about 150-220ml is just nice for one person.
Temperature
Cool down the boiling water to 80 degree Celsius. Use the same temperature for a series of brewing until you feel the taste no long remains. Finally, you can use boiling water to bring out the remaining taste and flavor.
Brewing time
For sencha, the first brewing period is 1 minute.The second brewing must be less than a few seconds. The third brewing is the same. From the forth brewing onwards, increase to additional 10 seconds for the each subsequent brewing.
Suitable Tea Equipment
Clay teapot and Tetsubin makes the taste of Sencha even better. It is mainly because of the iron that is released from the equipment. In particular, the iron enhances the depth of after taste.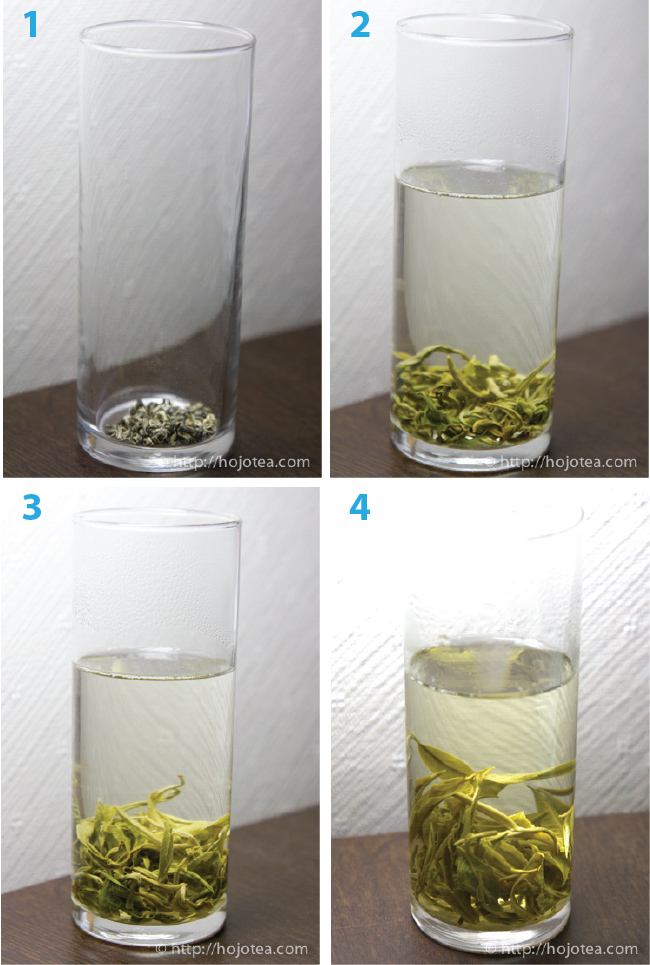 It is also very nice to brew this tea in the long glass as above photos. In particular, I suggest this method if you want to drink tea at work or when you do not have enough time to all the way prepare tea using teapot. All you have to do is to put one tea spoon equivalent quantity of the leaf and pour hot water that temperature is at around 80 degree C. Once you finsh drinking tea, you can refill the glass with hot water over and over again.
Cold Water Brewing Method
Most of Green Teas can be brewed in cold water. The higher the grade of tea, the more suitable it is with cold water brewing.
Brewing method using the large container
1. Measure 1 table spoons of tea leaves for 500ml of water.
2. Pour the water into a glass jar or bottle and leave it for more than 1 hour.. It is also a good idea to put the tea leaves directly into a PET bottle.
3. Gently sway the container in order to get an even concentration.
4. Usually the taste of tea gets thicker when it is brewed for more than a few hours. In this case, pour in additional water. Eventually tea can be brewed more than 1 liter per 1 table spoon of tea leaves.
Brewing method using a clay teapot
1. Measure 4-6g of tea leaves for 200ml of water.
2. Pour water into a clay teapot and brew for 3 minutes.
3. For second brewing, brew for 20 seconds. Alternatively you can also switch to hot water from second brewing onwards, if you wish. If using hot water for second brewing, pour boiling water and brew for less than a few seconds. Since tea leaves are very cold and wet, the temperature drastically drops to less than 60 degree Celsius.
The benefit of cold water brewing is tea can last for a whole day and the taste is refreshing with a natural sweetness. Thanks to the cold water extraction, the level of caffeine in tea is very low. You would not suffer from sleepless nights. Even kids can enjoy this tea.